William "Bill" Humphress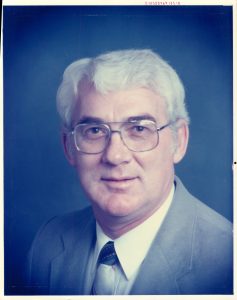 William "Bill" Lowell Humphress, 84, of Knifley, Kentucky, was born March 23, 1938, in Adair County, Kentucky, to the late Chester Howard Humphress and Jesse Jewell Eastridge Humphress, and departed this life Wednesday, March 8, 2023, at UK Healthcare in Lexington, Kentucky.
Bill married the love of his life, Clara Gaskins Humphress, February 22, 1958. She preceded him in death September 19, 2022.
He enjoyed golfing, flying small planes, farming, and fishing. He was an avid fan of UK basketball and NASCAR. His interest in helping others was reflected in his 20 year tenure of coaching little league baseball in Danville, Indiana. Receiving the KY State Farm "Good Neighbor Award" was just one recognition of the thousands of ways he helped his neighbors and friends.
Bill left home at the young age of 17 to serve his country in the United States Air Force and was stationed in Japan, where he developed his skill as an Air Traffic Controller. This became his life's work and he rose to the rank of Chief at the Indianapolis International Airport where he was highly respected by both his co-workers and top management. Keeping air travelers safe was a responsibility he took seriously every day until his retirement from the Federal Aviation Administration in 1996.
Upon retirement, he and Clara moved from Danville, Indiana back to the family farm in Knifley, and enjoyed their "Ole Kentucky Home" and country living over the next 25 years. At an early age Bill professed his faith in God and devoted many hours of service to his church, Christie Chapel, holding various positions thru the years.
Bill is survived by:
Three children: Donald Lowell Humphress of Knifley, KY; Sonjia Kay Humphress Weaver (Brian) of Asheboro, NC; and Kerry Lee Humphress (Brenna) of Columbia, KY.
Eight grandchildren: Kristen Marie Moore,(Kevin) of Indianapolis, IN; Jon Stewart Humphress (AnneMarie) of Newberg, IN; Jacqueline Ann Humphress (Jake) of Indianapolis, IN; Jesse Breanne Kellogg (James) of Adams, TN; Samuel Ky Weaver( Hannah) of Junction City, KS; Faith Laurel Weaver (Alex) of Denver, CO; Brendan David Scott Rowland (Jenelle) of Rossville, IN; and Jacob Dale Higgins of Columbia, KY.
Eleven great-grandchildren and a host of nieces and nephews who adored their Papaw and Uncle Bill.
One sister: Hilda Gay Legg (Michael Potter) of Lexington, KY.
One brother: Jackie Dee Humphress (Janice) of Watertown, TN.
Besides his parents and wife, Bill was preceded in death by one son, William Mitchell Humphress and a sister, Sharon Redford Campbell.
VISITATION: Wednesday, March 15, 2023 from 5:00 p.m. – 8:00 p.m. EST at Auberry Funeral Home, 503 East Main Street, Campbellsville, KY 42718.
Thursday, March 16, 2023, from 11:00 a.m. – 1:00 p.m. EST at Christie Chapel Church in Elkhorn, KY.
FUNERAL: Thursday, March 16, 2023 at 1:00 p.m. EST at Christie Chapel Church in Elkhorn, KY.
BURIAL: Harden Cemetery (near Christie Chapel Church) in Elkhorn, KY.
In Lieu of Flowers, donations may be made to the Chester and Jewell Humphress Scholarship Fund at Lindsey Wilson College Dev. Ofc.210 Lindsey Wilson Street, Columbia, KY 42728. (send contributions to Auberry Funeral Home)