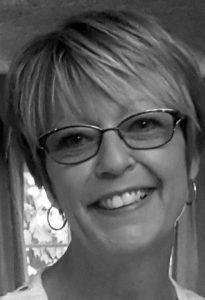 Millinda Jo Durham of Campbellsville, daughter of Margaret Cook Coomes and the late Donnie Glenn Coomes, was born September 27, 1962, in Taylor County, Kentucky. She died at 5:14 P.M., Friday, August 18, 2017in Campbellsville.
Age: 54
She professed faith in Christ and grew up attending Campbellsville Christian Church and had attended East Campbellsville Church of God.
Milly was a former employee of Fruit of the Loom in Campbellsville until its closing. She was a Master Stylist for twenty years and had recently fulfilled her life-long dream, of owning her own business. Milly opened The Beauty Mark Salon in 2015 and operated it until her death.
Milly loved animals, especially dogs. This was evident by how she cared for not only her own dogs, but the neighbors' dogs as well. In Millinda's spare time you could find her gardening or sitting outside reading and enjoying the beauty of the outdoors.
She united in marriage to Ronnie Durham October 14, 1983.
Besides her husband, she is survived by one son and one daughter: Jonathan David Durham and partner, Wesley Parker of Campbellsville and Stephanie Spencer Ashby and husband, Kevin of Scottsville; four granddaughters: Caitlyn Nichole Graham, Chloe Brianne Graham, Karsyn Elise Ashby and Kerrigan Elizabeth Ashby of Scottsville; her mother, Margaret Cook Coomes of Campbellsville; one brother, Ronald Glenn Coomes of Cave City; mother-in-law, Wanda Marlene Johnson of Liberty; special long time friend, Gerald Myers and many other relatives and friends.
VISITATION: 5:00 – 8:00 P.M., Monday, August 21, 2017 at Parrott & Ramsey Funeral Home
FUNERAL SERVICE: 11:00 A.M., Tuesday, August 22, 2017 at Parrott & Ramsey Funeral Home by Bro. Robbie Spencer
FAMILY REQUEST EXPRESSIONS OF SYMPATHY TO BE DONATIONS TO TAYLOR COUNTY SPCA AND MAY BE MADE AT PARROTT & RAMSEY FUNERAL HOME
Read More