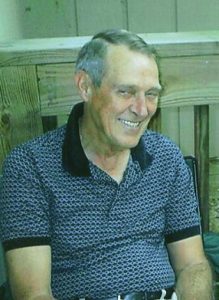 Marshall Wingler of Campbellsville, son of the late Edna Wingler, was born July 7, 1943 in Columbus, Ohio.  He died at 9:17 A.M., Tuesday, June 6, 2023 in Campbellsville.   Age:  79
He professed faith in Christ and was a member of St. Andrew Methodist Church.
Marshall was a retired engine operator with TGT.
Marshall coached Little League Baseball for twenty-five years and loved to play golf.
He united in marriage to Betty Thomas June 27, 1964.
Besides his wife, Betty Wingler of Campbellsville, he is survived by one son and one daughter:  Doug Wingler and wife, Trish of Lakeport, California and Sissy Corbin and husband, Brad of Greensburg; three grandchildren:  Emily Sturdivant and husband, Jared of Cabot, Arkansas, Rachel Wingler of Hungary and Hailee Corbin of Greensburg; one great-grandson, Austin Sturdivant and many other relatives and friends.
________________
VISITATION:  5:00 – 8:00 P.M., Friday, June 9, 2023 at Parrott & Ramsey Funeral Home
FUNERAL SERVICE: 11:00 A.M., Saturday, June 10, 2023 at Parrott & Ramsey Funeral Home in Campbellsville by Rev. Don Gowin and Brad Corbin
BURIAL:  Green River Memorial Baptist Church Cemetery
EXPRESSIONS OF SYMPATHY REQUESTED TO BE DONATIONS TO GIDEON BIBLES OR HOSPARUS HEALTH OF GREEN RIVER AND MAY BE MADE AT PARROTT & RAMSEY FUNERAL HOME
Read More