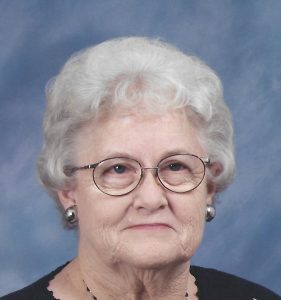 Peggy Gilpin of Campbellsville, daughter of the late Thurman Wilcoxson and Sadie Sharp Wilcoxson, was born January 5, 1932, in Taylor County, Kentucky. She died at 7:00 A.M., Sunday, April 15, 2018 in Campbellsville. Age: 86
Peggy professed faith in Christ and was a member of Beech Grove Baptist Church where along with her husband she served as custodian. She enjoyed music and was the pianist and organist at church for several years. Another of Peggy's passions was cooking and baking and always had a ready supply of food from the garden and farm. No visitor ever left her home hungry.
She united in marriage to Bobby Gilpin March 10, 1951. He preceded her in death March 27, 2018.
She is survived by two sons: Larry Gilpin and wife, Debbie and Bill Gilpin and wife, Karen of Campbellsville; three grandchildren: Miranda Zottman and husband, Corey, Aaron Gilpin and wife, Meredith all of Campbellsville and Holly Carroll and husband, Chris of Cashion, Oklahoma; four great-grandchildren; Jack Zottman, John Zottman, Maggie Carroll and Reed Carroll; one brother, Frank Wilcoxson and wife, Aileen of Campbellsville; several nieces and nephews and many other relatives and friends.
She was also preceded in death by one sister, Linda Wilcoxson July 5, 2014.
VISITATION: 5:00 – 8:00 P.M., Tuesday, April 17, 2018 at Parrott & Ramsey Funeral Home
FUNERAL SERVICE: 11:00 A.M., Wednesday, April 18, 2018 at Parrott & Ramsey Funeral Home by Rev. Larry Rowell and Rev. John Butler
BURIAL: Brookside Cemetery
FAMILY REQUEST EXPRESSIONS OF SYMPATHY BE DONATIONS TO BEECH GROVE BAPTIST CHURCH BUILDING FUND OR (TRAC) TAYLOR REGIONAL ARCHIVE CENTER AND MAY BE MADE AT PARROTT & RAMSEY FUNERAL HOME
Read More