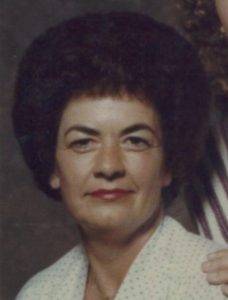 Zona Mae (Bryant) Hedrick, the daughter of the late Elmer and Ruby Sinclair Bryant, was born Saturday, April 10, 1937 in Columbia, KY and departed this life on Sunday, August 19, 2018 in Campbellsville at the Campbellsville Nursing and Rehab. She was 81 years, 4 months and 9 days of age.
She was a former employee of Lindsey Wilson College, having worked in the dining hall. She was a former Miss Adair County Fair, a homemaker and was of the Baptist Faith.
Survivors include a daughter: Gina Coker and husband Mark of Campbellsville; a grandson: Alex England of Campbellsville; nieces and nephews: Bobby Montgomery and wife Denise, Mike Montgomery, Vickie Maier, Laura Montgomery, Joel Montgomery and Todd Bryant and a host of other relatives and friends.
Besides her parents, she was preceded in death by a sister: Reba Dobson, a brother: William T. Bryant and a nephew: Jeff Montgomery.
A memorial visitation for Zona Bryant Hedrick will be Wednesday, August 22, 2018 from 1:00-3:00 P.M. in the chapel of the L.R. Petty Funeral Home in Campbellsville.
No Public funeral service will be held

Read More