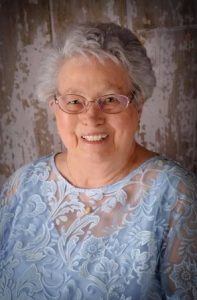 Rosemary Ford Mardis of Campbellsville, daughter of the late Coakley Ford and Flora Lewis Ford, was born June 21, 1930 in Taylor County, Kentucky.  She died at 9:35 A.M., Wednesday, December 6, 2023 in Campbellsville.    Age:  93
She professed faith in Christ and was a member of Robinson Creek Baptist Church. Rosemary loved going to church and reading her Bible.  She also enjoyed spending time with family and cooking.
Rosemary was a retired department manager with Wal Mart.
She united in marriage to Robert "Burr" Mardis January 31, 1948 and he preceded her in death June 15, 2017.
Rosemary is survived by one son and one daughter:  Ron Mardis and wife, Melissa and Gayle Phillips and husband, Charles of Campbellsville; five grandchildren:  Matthew Mardis and wife, Becky, Nicole Driver and husband, Bob, Will Phillips and wife, Tana, Aaron Campbell and wife, Kristin and Kimberly Poff; nineteen great-grandchildren; two brothers and one sister:  Leonard "Starchy" Ford and wife, Sue, Deanie Price of Mt. Washington and Donnie Ford and wife, Juanita of Campbellsville; one sister-in-law, Sharon Ford of Campbellsville; several nieces and nephews and many other relatives and friends.
Rosemary was also preceded in death by one brother and one sister:  Raymond Ford and Mardell Benningfield.
_________________
VISITATION:  5:00 – 8:00 P.M., Thursday, December 7, 2023 at Parrott & Ramsey Funeral Home
FUNERAL SERVICE:   1:00 P.M., Friday, December 8, 2023 at Parrott & Ramsey Funeral Home in Campbellsville by Rev. Jim Collison, III
BURIAL:  Campbellsville Memorial Gardens
EXPRESSIONS OF SYMPATHY REQUESTED TO BE DONATIONS TO GIDEON BIBLES AND MAY BE MADE AT PARROTT & RAMSEY FUNERAL HOME,
Read More