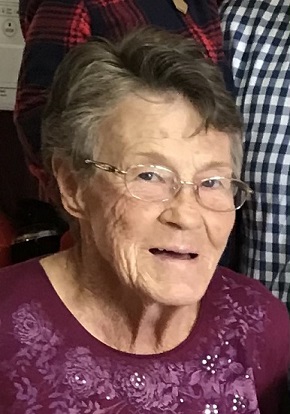 Velda Underwood Shofner Stevenson of Campbellsville, daughter of the late Bradley Underwood and Jessie Sprowles Underwood, was born March 25, 1939 in the Attilla Community of Taylor County, Kentucky.  She died at 3:00 A.M., Tuesday, December 6, 2022 in Greensburg.    Age:  83
She professed faith in Christ early in life and was a dedicated Christian.  Velda loved playing piano and singing, especially old time gospel music.
Velda was a retired family caregiver and farmer.
She united in marriage to Jimmy Shofner December 24, 1955 and he preceded her in death December 22, 1981.  She later united in marriage to Howard Stevenson and he preceded her in death October 7, 2011.
Velda enjoyed quilting, gardening and working in her flower garden.  Hobbies also included canning, freezing, driving the tractor and raking hay.
She is survived by one daughter and son-in-law, Vinessa and Jeff Johnson of Hodgenville; four grandchildren:  Joshua Johnson and wife, Kelly of Knoxville, Tennessee, Justin Johnson and wife, Melissa of Vine Grove, Candace Tims of Louisville and Jessica Shofner of Hodgenville; seven great-grandchildren:  Derrick Biven, Paige Tims, Dalton Tims, Hallie Johnson, Silas Johnson, Micah Johnson and Caden Brown; five brothers and one sister:  Nolan Eugene Underwood and wife, Rita, Sheridan Underwood and wife, Nina, Henry Underwood and wife, Debbie, Donnie Underwood and Mary Ann Rice of Campbellsville and Deatrice Underwood and wife, Linda of Texas; a sister-in-law, Carol Underwood of Campbellsville; several nieces and nephews and many other relatives and friends.
She was preceded in death by a son, Dwayne Shofner in 2008 and two brothers and one sister:  Gradie Underwood, Cecil Underwood and Vivian Underwood.
_____________
VISITATION:  10:00 A.M. – 2:00 P.M., Thursday, December 8, 2022 at Parrott & Ramsey Funeral Home
FUNERAL SERVICE:  2:00 P.M., Thursday, December 8, 2022 at Parrott & Ramsey Funeral Home in Campbellsville by Joshua Johnson, Justin Johnson and Candace Tims
BURIAL: Bethel Baptist Church Cemetery, Larue County, Kentucky
EXPRESSIONS OF SYMPATHY REQUESTED TO BE DONATIONS TO THE SCLERODERMA FOUNDATION OR THE ALZHEIMER'S ASSOCIATION  AND MAY BE MADE AT PARROTT & RAMSEY FUNERAL HOME
Read More