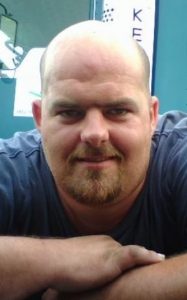 Shannon Ray Brown, of Mt. Sherman, KY, the son of Ray Brown and Lou Ann Skaggs Brown, was born, March 11, 1975in Louisville, and departed this life on Tuesday, October 17, 2017 in Whiteland, Indiana. He was 42 years of age.
He had made a profession of faith in Christ and was a member of the Buffalo Church of the Nazarene. He was a truck driver for Shofner Enterprises in Campbellsville. He loved to work on vehicles, ATV's, and motorcycles as well as ride them and enjoyed spending time with family and friends.
Survivors include his father: Ray Brown and his wife: Rose of Mt. Washington; his mother: Lou Ann Zirnheld and husband David of Mt. Washington; his children: Alice McGuffin of California, Devon Bates of Elizabethtown, Vera Brown, Vivian Brown and Dalton Brown, all of Campbellsville; two brothers: Brandon Brown and wife Jessica and Nicholas Brown, all of Mt. Washington; a step-brother: Jason Zirnheld and wife Lisa of Louisville; his grandmother: Juanita Skaggs of Mt. Sherman.
Also two grandchildren: Preston Lee Milby and Mayzie Mae Milby; two nephews: Laken Brown & Addison Zirnheld; a niece: Lily Zirnheld and a host of other relatives and friends.
The funeral service for Shannon Ray Brown will be Saturday at 1:00 P.M. in the chapel of the L.R. Petty Funeral Home in Campbellsville with burial to follow in the Brookside Cemetery.
Visitation will be from 5-8 PM on Friday at the funeral home.

Read More