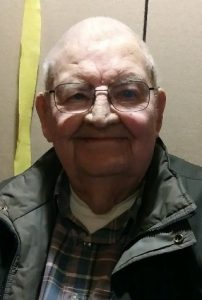 Mr. Arland Glenn Spratt of the Mt. Carmel community in Taylor County passed from this life on Saturday, December 8, 2018. Born on October 18, 1926 to the late Ray and Annie (Skaggs) Spratt, he was 92 years, 1 month, and 20 days of age. Mr. Spratt had made a profession of faith in Christ and attended the Mt. Carmel Baptist Church. He was a retired school bus driver for the Taylor County School System and a lifelong farmer. His passion, however, was spending quality time with his cherished bride, Mrs. Ruby (Rucker) Spratt, and together they had shared over 66 years of marriage before her passing in April 2017. It was a favorite pastime of both to RV camp, and they spent many an entire summer parked at Site 36 at Green River State Park, where they enjoyed watersports as much as lounging.
He leaves to cherish his memory:
A sister: Dorothy Pierce of Campbellsville,
Close nephews and caretakers who were loved and raised and sons: Chad Rucker and wife Stacy of Calvary, and Kevin Rucker and companion Chris of Florida,
Two grandsons: Ben Smith of Campbellsville, and Bryan Smith of Lebanon,
Three great-grandchildren: Aubrey, Hannah, and Sadie,
Great nieces and nephews: Brittany, Tyler, Peyton, Braydon, and Jayden,
Close brothers-in-law and sisters-in-law: Mary and Dickie Kirtley of Campbellsville, and Steve and Marilyn Rucker of Elizabethtown,
Close friend: Roger Lee Beams of Campbellsville.
And a host of other family and friends.
He was also preceded in death by a daughter, Donna Sue Shofner; a brother-in-law, Bill Pierce; and one grandson, Travis Smith.
There will be a funeral service to honor the life of Mr. Spratt on Tuesday, December 11, 2018, at 1:00 PM in the chapel of the L.R. Petty Funeral Home, 1765 New Columbia Rd, Campbellsville, KY. Bro. Freddy Thompson will be officiating. He will be laid to rest beside his wife in the Mt. Carmel Baptist Church Cemetery, 58 DeWitt Rd, Campbellsville, KY, immediately following the service.
The family will receive friends at the funeral home on Monday, December 10, from 5:00-8:00 PM.

Read More