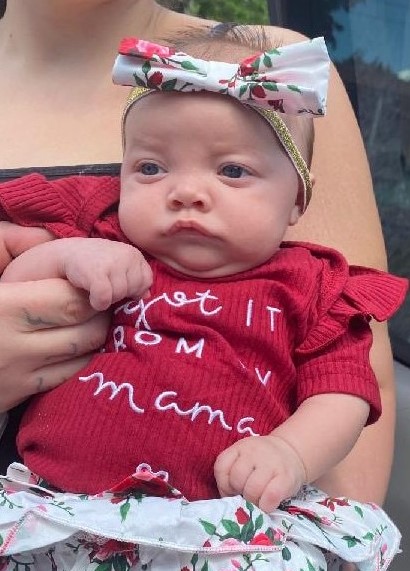 Remington Margaret "Remi" Waldridge, age 2 months, the daughter of James Lucas Waldridge and Alexa Gutierrez of Campbellsville was born March 7, 2022 in Marion County and departed this life on May 18, 2022 at the Taylor Regional Hospital.
Survivors include her father: Lucas Waldridge; her mother: Alexa Gutierrez; two sisters: Kacelyn and Zaryiah.
Also surviving are her grandparents: Michelle and Bo Franklin and Patricia and Jimmy Ferguson; her great-grandparents: Sherman and Marilyn Dudley and Jim Ferguson and a host of aunts, uncles and other relatives and friends.
Her deceased grand and great-grandparents: Robert Gutierrez, Greg Waldridge and Margaret Dudley.
The graveside service for "Remi" will be Saturday, May 21, 2022 at 3:00 P.M. at the Our Lady of Perpetual Help Cemetery located behind the Catholic in Campbellsville.
L.R. Petty Funeral Home in charge of arrangements.
THERE WILL BE NO PUBLIC VISITATION

Read More