Tiffany Martin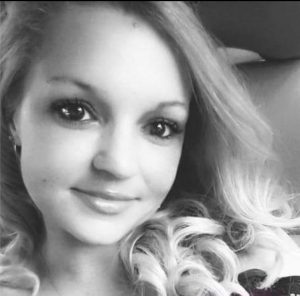 Tiffany Michelle Martin, 34, of Nicholasville, Kentucky, daughter of Dennis Martin and Bobbie Kay Durham Holmes was born September 27th, 1988, in Lexington, Kentucky, and departed this life on Saturday, September 2nd, 2023 in Lexington, Ky.
Tiffany professed faith in God and was baptized in Lexington, Ky. She attended school at West Jessamine in Nicholasville, Ky. She loved all people and animals, especially her bangle cat "Blu". Tiffany was a very tender-hearted and loving lady who was always trying to make others happy. She was very talented in her own creations which she sold in small shops in the Lexington area and gave as gifts to family and friends. As the memories of her will always make our hearts smile, her big heart and smile will live on through Lilly Tucker and Alexis McPherson along with many others that her life touched in special ways.
Tiffany is survived by:
Her father, Dennis Martin, and his wife, Kathy, of Nicholasville, Ky
Her mother, Bobbie Kay Durham Holmes, and her husband, Mike, of Glasgow, Ky
Four sisters and two brothers: Heather Mitchell and family of Paris, Ky; Stephanie McPherson and family of Georgetown, Ky; Jamie McPherson and family of Frankfort, Ky; Allie Gaines Parker of Campbellsville, Tyler Martin of Nicholasville, Ky; and Timmy Holmes of Louisville, Ky
Grandparents: Wallace and Sandy Martin of Georgetown, Ky; and Mike and Sandy Durham of Campbellsville
A host of aunts, uncles, nieces, nephews, and friends
VISITATION: Friday, September 8th, 2023, from 5:00 pm – 8:00 pm EST at Auberry Funeral Home in downtown Campbellsville.
FUNERAL: Saturday, September 9th, 2023, at 1:00 pm EST at Auberry Funeral Home in downtown Campbellsville with burial to follow in Campbellsville Memorial Gardens.
The staff of Auberry Funeral Home would like to thank the family for entrusting us with the care and arrangements of Ms. Tiffany Martin at our funeral home. May God bless you during this difficult time.