Charlie Caldwell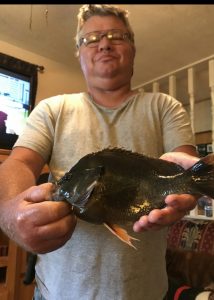 Charlie Caldwell, 59, of Campbellsville, Kentucky, son of the late "Blue Bo" Caldwell and Elizabeth Odele Wathen Caldwell was born August 23rd, 1964, in Campbellsville, Kentucky, and departed this life on Monday, September 11th, 2023 in Campbellsville, Ky.
Charlie was united in marriage to Ms. Marie Adele Spalding on March 18th, 1992. She survives. He loved fishing, turtling, and spending time outdoors.
Besides his wife, Charlie is survived by:
Three daughters: Tina Cruse and her significant other, Calvin, of Columbia; Shannon Bailey and her husband, Chris, of Indiana; Cathy Grubbs and her husband, Lenn, of Hodgenville
Five grandchildren: Ashlen Grubbs, Evan Grubbs, Raylee Grubbs, Jackie Tennyson, all of Hodgenville, and Taylor Cruse of Glasgow
Two great-grandchildren: Levi Tennyson and Paisley Tennyson of Hodgenville
Ten brothers and sisters: Marcella Brady of Calvary, Cecilia Smith of Bardstown, Connie Gaddie of Lebanon, Pam Ford of Campbellsville, Billy Caldwell of Calvary, Phyllis Beavers of Bardstown, Tim Caldwell of Lebanon, Danny Caldwell of Finley, Monica Caldwell of Calvary, and Jackie Caldwell of Bardstown
He was preceded in death by:
Two brothers and four sisters: Austin Caldwell, Jerry Caldwell, Brenda Caldwell, Karen Money, Brenda Kay Caldwell, and Linda Mae Caldwell
VISITATION: Thursday, September 14th, 2023, from 5:00 pm – 8:00 pm EST at Auberry Funeral Home in downtown Campbellsville.
FUNERAL: Friday, September 15th, 2023, at 12:00 pm EST at Auberry Funeral Home in downtown Campbellsville.
In lieu of flowers, the family has requested expressions of sympathy be in the form of donations to funeral expenses which may be made at the funeral home.
The staff of Auberry Funeral Home would like to thank the family for entrusting us with the care and arrangements of Mr. Charlie Caldwell at our funeral home. May God bless you during this difficult time.