Green River Lake State Park Campground Improvements Assist Amazon.com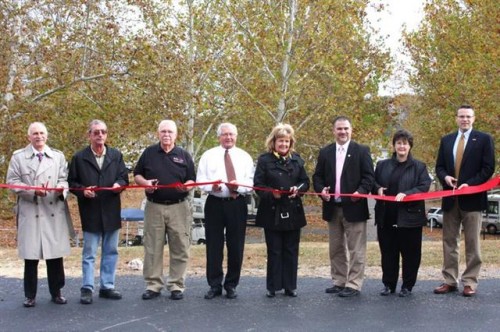 Local and state officials took part in a ceremony Friday to celebrate improvements at the Green River Lake State Park campground that will assist Taylor County's largest employer.
The campground improvements will assist Amazon.com's distribution center with temporary workers who stay in the area during the busy holiday season. The Kentucky Department of Parks was asked to help by keeping the campground, which usually closes at the end of October, open during November and December. The improvements included adding frost-free water hydrants and wireless internet.
"This is another example of how our state parks play a crucial role with economic development in Kentucky communities," Tourism, Arts and Heritage Secretary Marcheta Sparrow said. "We're glad this state park campground could help Campbellsville and Taylor County with this project."
Amazon employs 1,200 full-time workers and adds another 3,000 temporary workers during the peak holiday season. More than 500 of these temporary workers camp in the area.
"Amazon.com is an important part of the economy in this region and I appreciate the willingness of the Department of Parks to help us with this partnership," said Sen. Jimmy Higdon, of Lebanon.
"I want to thank the Department of Parks for helping our community by making these campground improvements to assist Amazon – it's a great benefit," said Rep. John "Bam" Carney, of Campbellsville.
Green River Lake State Park covers 1,331 acres next to Green River Lake. It includes a campground with 157 campsites, restroom, laundry, restrooms and dump station. There is also a marina, picnic shelter, mini-golf and 28 miles of multi-use trails.