WBCA honors Campbellsville's Donna Wise with Lifetime Achievement Award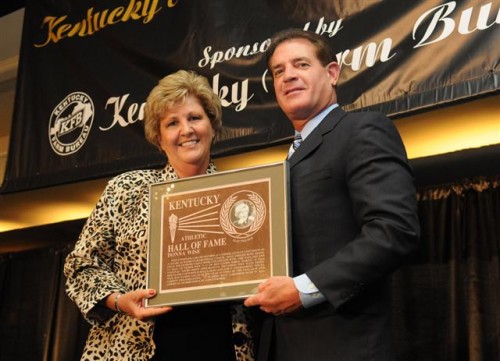 INDIANAPOLIS, Ind. – Donna Wise, the all-time winningest coach at Campbellsville (Ky.) University, officially joined the ranks of great women's basketball coaches in America on Monday when she was awarded the 2011 Jostens-Berenson Lifetime Achievement Award by the Women's Basketball Coaches Association (WBCA) WBCA Awards Show. Wise was recognized with the honor during the WBCA Award Show at the Indianapolis Convention Center's Sagamore Ballroom.
The award is named in honor of the late Senda Berenson, who in her role as a physical education instructor at Smith College in Northampton, Mass., introduced "basketball" to her female gym students in 1892. This introduction marked the birth of the women's game, which occurred the year following basketball's invention by Dr. James Naismith in Springfield, Mass.
Previous winners include Margaret Wade, Delta State; Cathy Rush, Immaculata; and the late Sue Gunter, Louisiana State, who were premiere teams in the resurgence of women's basketball. The late Kay Yow, North Carolina State University and current Tennessee Coach Pat Summit also are recipients.
"Looking at the list of previous award winners and their impact on women's basketball, I am humbled to be placed in that company," Wise said.
Wise spent 32 years on the sidelines at Campbellsville University winning 661 games (661-283) with only Adolph Rupp, Ed Diddle and Denny Crum with more collegiate wins in Kentucky. Her titles and honors are numerous both athletically and civically.
Over the span of numerous conferences during her career Wise has been chosen 15 times as Coach of the Year, twice by Citizens for Sports Equity. Her teams captured 20 regular season conference titles and 20 conference tournament titles making 16 NAIA national tournament appearances with five national quarterfinal finishes. In 2000, her team reached the No. 1 ranking in the NAIA polls for the first time. Wise's program saw 23 players named an All-American more than 50 times by various organizations. She was named NAIA Coach of the Year three times and received conference coach of the year honors seven times.
Wise previously has been recognized for her lifetime achievement with induction into the NAIA Basketball Hall of Fame in 2000 and the Kentucky Athletic Hall of Fame in 2010.
"The significance of this award is a testimony to those young women who throughout my career were empowered by the experience," Wise said. "Many are now teachers, coaches, doctors, business executives, and mothers and have immersed themselves in community, church and civic leadership opportunities. They carry on those traditions by instilling those values of self-confidence, a strong work ethic, passion and commitment to their players, students, co-workers, and children. They are that big wide base underneath my success with whom I share this award."
One of those who excelled for Wise as a player and assistant coach, Ginger High Colvin, went on to take over the Lady Tigers' program after Wise' retirement in 2007.
"It's hard for me to put into words what she has meant to the program and me personally. Her determination and work ethic – the way she studied the game and her opponents was the best training I could have had," said Colvin, who has guided her team to back-to-back 30-win seasons and NAIA quarterfinal appearances the past two years.
Upon retirement in 2007, Wise moved full-time into a teaching role as head of the university's Department of Human Performance. She also moved her passion to the area of international and civic service.
Partners in Development recognized her for her effort in building wells and a basketball court in Katombora, Zambia. Her group provided literacy teaching and basketball skill instruction to orphans and children in local villages.
"Life's journey is about giving your gift. With retirement it's been a matter of redirecting that passion to other areas where I might be of help," said Wise, who also conducted clinics in Natal and Sao Palo, Brazil in 2000.
She also led a basketball clinic in Katombora, Zambia at the Katombora Reformatory School and outlying villages in 2007. From 1990-2010, she served as director of one of the largest basketball camps in the commonwealth of Kentucky, the Central Kentucky Team Camp.
Campbellsville Chamber of Commerce has recognized her as both Citizen and Educator of the Year. When her grandson Carter was diagnosed with Stage 4 neuroblastoma cancer at the age of six months Wise organized a local St. Baldricks "Shaving for a Cure" event to raise awareness and research funds for pediatric cancer. That event has raised over $165,000 locally under her direction the past four years.
The commitment to gifting your gift throughout life's journey is one that Donna Wise has traveled well.
Donna Wise's career at a glance
Seasons: 32
Overall Record: 661-283
Home Win Percentage: .830
NAIA Tournament Appearances (16): 1983, 1990, 1991, 1992, 1993, 1994, 1995, 1996, 1997, 1998, 2000, 2001, 2002, 2003, 2004, 2005
NAIA Quarterfinal Appearances (5): 1983, 1995, 1998, 2000, 2002
KIAC Conference & NAIA District Championships (13): 1982, 1983, 1984, 1985, 1988, 1989, 1990, 1991, 1992, 1993, 1995, 1996 (13)
KIAC Tournament Championships (3): 1983, 1986, 1989
KWIC Tournament Championships (4): 1979, 1980, 1981, 1982
NAIA District Tournament Championships (10): 1983, 1984, 1985, 1990, 1991, 1992, 1993, 1994, 1995, 1996
MSC Conference Championships (7): 1997, 1998, 2000, 2001, 2002, 2003, 2004
MSC Tournament Championships (3): 1997, 1998, 2004
All-Americans: 23 Players, 57 Awards
COACHING AWARDS
MSC, KIAC & NAIA District Coach of the Year (15): 1978, 1980, 1981, 1982, 1983, 1990, 1992, 1993, 1995, 1996, 1997, 1998, 2002, 2003, 2004
AWSF Basketball Coach of the Year: 1993
Converse District 7 Coach of the Year: 1994
NAIA Hall of Fame, 2000
Eastern Kentucky University Hall of Distinguished Alumnus, 2005
Campbellsville University Hall of Fame, 2007
Kentucky Athletic Hall of Fame, 2010
WBCA Jostens-Berenson Lifetime Achievement Award, 2011