Maxine Cheatham Lasley Maddox, 92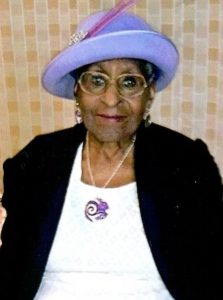 Mrs. Eula Maxine (Cheatham) Lasley Maddox of Campbellsville was born on March 19, 1925 in the Gadberry community of Adair County to the late Martin and Myrtle (Elliot) Cheatham. She departed this life on Sunday, November 5, 2017 at the Grandview Nursing and Rehabilitation Center, being 92 years, 7 months, and 17 days of age. She professed faith in Christ at an early age and joined New Zion Baptist Church and later joined Pleasant Run Baptist Church. She united in marriage to Mr. Leonard Lasley, who preceded her in death. Later, she united in marriage to Mr. Henry Maddox, who also preceded her in death. Mrs. Maddox enjoyed helping people and daily encouraged those around her. She loved her family and her church, and took great pleasure in cooking and caring for them. She was a homemaker for several years and a member of the Trace Creek Homemakers Club, but also worked at the State Park and the Community Center of Campbellsville Housing Authority.
Always on the go, she learned how to use a computer at age 80. Mrs. Maddox's grace and love will be dearly missed by all who knew her.
She leaves to cherish her memory:
One daughter: Hilda Moreno and husband Jorge of Bardstown,
Two siblings: Irene Burks of St. Louis, Missouri, and Owen P. Cheatham and wife Ernestine of Indianapolis, Indiana,
A brother-in-law: J.C. Lasley and wife Bonita of Columbia,
A sister-in-law: Lillie DuVall of Columbia,
A daughter-in-law: Paulette Lasley of Campbellsville,
Seven grandchildren: Everick Lasley and wife Kelly, Leon Lasley, Jr. and wife Tracy, LaVon Lasley, Benita Moreno, Jorge Moreno, Jr., Ricardo Moreno, and Angie Moreno,
Fifteen great-grandchildren:
Seven great-great grandchildren,
A close friend: Kathleen Fletcher of Campbellsville,
And a host of nieces, nephews, and other relatives and friends. And a host of nieces, nephews, and other relatives and friends.
She was also preceded in death by two children: Frieda Lasley and Leon Lasley, Sr., a brother, William "Bill" Cheatham, a sister, Frances Buckner, and a granddaughter, Elisa Lasley.
There will be a funeral service to honor the life of Mrs. Maddox on Saturday, November 11, 2017 at 1:00 PM EST (12:00 PM CST) at the First Baptist Church, 704 E Broadway, Campbellsville, KY. Rev. James Washington will be presiding over the service with Rev. George Nelson delivering the eulogy. Burial will follow in the Lasley Cemetery in Adair County.
The family will receive friends at the church on Friday, November 10, from 5:00-8:00 PM EST (4:00-7:00 PM CST) and on Saturday from 11:00 AM EST (10:00 AM CST) until time for the service.
L.R. Petty Funeral Home in Campbellsville in charge of arrangements.