Joe Rock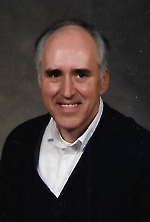 Joe Rock of Campbellsville, son of the late Henry Rock and Beulah Nunn Rock, was born September 18, 1947 in Barren County, Kentucky. He died Tuesday, November 7, 2017 in Campbellsville. Age: 70
He professed faith in Christ and was a member of Campbellsville Baptist Temple.
Joe was a retired furniture and cabinet maker with Campbellsville Cherry Reproductions. Besides working with wood and building furniture Joe loved attending gospel singings.
He united in marriage to May Bowen September 16, 1977 and she preceded him in death November 12, 2012.
He is survived by one daughter and one son: Misty Hafley and husband, Bryan of Campbellsville and Marty Rock and wife, Jennifer of Lexington; four grandchildren: Mayci Jo Hafley, Chloe Bryanne Hafley and Hayden Curtis Hafley of Campbellsville and Blake Webster Rock of Lexington; and many other relatives and friends.
VISITATION: AFTER 10:00 A.M., Wednesday, November 15, 2017 at Parrott & Ramsey Funeral Home
FUNERAL SERVICE: 1:00 P.M., Wednesday, November 15, 2017 at Parrott & Ramsey Funeral Home in Campbellsville by Pastor Jase Divens and Bro. B.C. Gillispie
BURIAL: Campbellsville Memorial Gardens
FAMILY REQUEST EXPRESSIONS OF SYMPATHY BE DONATIONS TO CAMPBELLSVILLE BAPTIST TEMPLE AND MAY BE MADE AT PARROTT & RAMSEY FUNERAL HOME