Helen Canada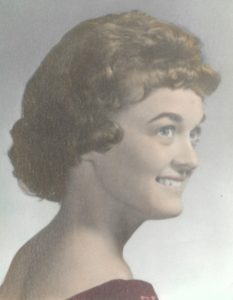 Helen Deloris Canada of Campbellsville, daughter of the late Dennis Marvin Colvin and Mildred Arnous Bright Colvin was born January 24, 1946 in Taylor County, Kentucky. She died at 4:35 P.M., Friday, November 24, 2017 in Louisville. Age: 71
She professed faith in Christ on April 24, 1955 and was a member of the Campbellsville Baptist Church where she served as a greeter and kept the Sunday School records.
Helen loved children and was fondly known as everyone's Granny. Helen and her husband, Utah have been members of the Taylor County Fair Board since 1997 and they were named Kentucky Fair Person of the Year in 2000.
She united in marriage to David Utah Canada August 14, 1964.
Besides her husband, David Utah Canada of Campbellsville, she is survived by two sons and two daughters: DeWayne Utah "Taw" Canada and wife, Patricia , Roy Marvin "Bill" Canada and wife, Debra, Lorie Ann Richerson and husband, Michael T. and Jana Lynn Marcum and husband, Josh ; ten grandchildren: Kacie Lorin Colvin and husband, Wes, Kelsi Cherie Wilson and husband, Alex, Kasandra Michael Pike and husband, John, Kori Amber Richerson, Megan Lynne Canada, Lindsey Renea Canada, Lauren Grace Canada, Dylan Utah Canada, Hana Lynn Marcum and Jacob Scott Marcum; two great-grandchildren: Sadler Thomas Colvin and Paislee Rae Wilson and an expecting baby Pike; a sister-in-law, Ruby Colvin all of Campbellsville and many other relatives and friends.
She was preceded in death by one son in infancy, Joey Marvin Canada and one brother, Earl Thomas "Tommy" Colvin.
VISITATION: 5:00 – 8:00 Tuesday, November 28, 2017 at Parrott & Ramsey Funeral Home
FUNERAL SERVICE: 11:00 A.M., Wednesday, November 29, 2017 at Parrott & Ramsey Funeral Home in Campbellsville by Rev. David Johnson
BURIAL: Brookside Cemetery
EXPRESSIONS OF SYMPATHY REQUESTED TO BE DONATIONS TO THE CHILDREN'S MINISTRY OF CAMPBELLSVILLE BAPTIST CHURCH OR THE TAYLOR COUNTY FAIR BOARD AND MAY BE MADE AT PARROTT & RAMSEY FUNERAL HOME