Virginia Lowery, 78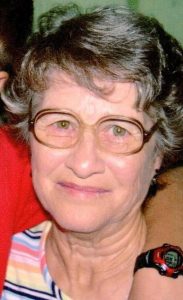 Mrs. Rosie Virginia Lowery of Green County was born on March 8, 1939 to the late Miles and Cecil (Warren) Caulk. She departed this life on Friday, November 24, 2017 at her home, being 78 years, 8 months, and 15 days of age. She professed faith in Christ at a young age and was a member of the Union Separate Baptist Church. Mrs. Lowery believed in the values of hard work, and retired from the Fruit of the Loom plant in Campbellsville after forty-plus years of service. She enjoyed living a quiet and peaceful life and took pleasure reading or working in her garden.
She leaves to cherish her memory:
Four children: Debbie Henderson and husband Billy of Greensburg, Leon Kessinger and wife Joan of Hodgenville, Ricky Kessinger and wife Mary of Hodgenville, and Chris Lowery of Buffalo,
A stepson: Mark Kessinger and wife Renee of Campbellsville,
Seven grandchildren: Tiffany Brook Cornish and husband J.C., Whitney Kessinger, Emily Kessinger, Ashley Yount, Wesley Kessinger, Allison Kessinger, and Mariah Lowery,
Two sisters: Doriene Clark of Green County, and Doris Estes of Greensburg,
A special friend: Elmer Buck Lowery of Buffalo,
Three great-grandchildren,
And a host of other family and close friends.
She was also preceded in death by a sister, Edith Caulk.
There will be a funeral service to honor the life of Mrs. Lowery on Monday, November 27, 2017 at 11:00 AM EST (10:00 AM CST) in the chapel of the L.R. Petty Funeral Home, 1765 New Columbia Rd, Campbellsville, KY. Bro Troy Arnett and Bro. Twyman Davis will be officiating. Burial will follow in the Union Separate Baptist Church Cemetery, Union Church Rd, Buffalo, KY.
The family will receive friends at the funeral home on Sunday, November 26, from 5:00-8:00 PM EST (4:00-7:00 PM CST).