Mary Catherine Gaines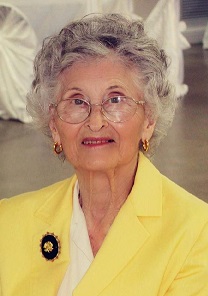 Mary Catherine Gaines of Campbellsville, daughter of the late Frank Gaines and Irene Sallee Gaines, was born July 2, 1928, in Green County, Kentucky. She died at 7:38 P.M., Monday, November 27, 2017 in Campbellsville. Age: 89
She professed faith in Christ and was a member of First United Methodist Church.
She was a retired employee of Fruit of the Loom in Campbellsville after thirty plus years of service.
Mary provided many great Sunday dinners for the family and her salmon patties were the best. She was little but fierce, it only took "the look" to correct the children when they did or said something of which she disapproved. Mary had a way of always seeing good in everything, could always make you smile and had faith that God would work things out for the best. She was an avid crocheter, blessing her family with many special handmade items such a doilies and Christmas ornaments.
She is survived by two daughters: Delois Taylor and husband, Jim and Linda Rogers of Campbellsville; five grandchildren: Mark Dudgeon and wife, Chris and Deanna Hunt and husband, Robbie of Campbellsville, Traci Hooper of Nolensville, Tennessee, Jessica Steward of Russellville and Brandi O'Marah and husband, Kevin of Lake City, Arkansas; twelve great-grandchildren; eight great-great-grandchildren; one brother, John W. Gaines of Campbellsville; several nieces and nephews and many other relatives and friends.
She was also preceded in death by one brother and one sister: James Allen "Jimmy" Gaines and Frances Phillips, and the father of her children, Paul E. Rogers.
VISITATION: 9:00 A.M. – 12:00 P.M., Thursday
FUNERAL SERVICE: 1:00 P.M., Thursday, November 30, 2017 at Parrott & Ramsey Funeral Home by John David Gaines
ENTOMBMENT: Campbellsville Memorial Gardens Mausoleum
EXPRESSIONS OF SYMPATHY ARE REQUESTED TO BE DONATIONS TO FIRST UNITED METHODIST CHURCH BUILING FUND, GIDEON BIBLES OR THE UNITED METHODIST CHILDREN'S HOME AND MAY BE MADE AT PARROTT & RAMSEY FUNERAL HOME