Margie Parrott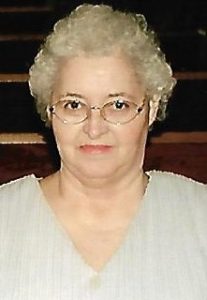 Margie Parrott of Campbellsville was born September 25, 1933 in Wayne County, Kentucky. She died at 3:04 P.M., Friday, December 1, 2017 in Campbellsville. Age: 84
She united in marriage to Roy Lee Parrott Jr. and he preceded her in death in 1958.
Margie is survived by one daughter, Nancy White and husband, Curt of Campbellsville; two grandchildren: Andrea Dicken and husband, Scotty, and Jon Hutchens and wife, Courtney of Campbellsville; four great-grandchildren: Daniel Hutchens, Piper Hutchens, Gabriel Hutchens, and Jaden Strange; one sister, Willis Baxter of Crothersville, Indiana; several nieces and nephews and many other relatives and friends.
She was preceded in death by a son and daughter: David Antwerp and Kathy Lee Parrott; two brothers and one sister: Orville Lowe, Purtel Lowe and Dottie Parrott.
VISITATION: 12:00 P.M. – 2:00 P.M., Sunday, December 3, 2017 at Parrott & Ramsey Funeral Home
FUNERAL SERVICE: 2:00 P.M., Sunday, December 3, 2017 at Parrott & Ramsey Funeral Home in Campbellsville by Rev. J. Alvin Hardy
BURIAL: Mt. Gilboa Baptist Church Cemetery
PALLBEARERS:
Andrea Dicken
Scotty Dicken
Skyler Dicken
Daniel Hutchens
Jon Hutchens
Larry Strange
EXPRESSIONS OF SYMPATHY REQUESTED TO BE DONATIONS TO THE ALZHEIMER'S ASSOCIATION AND MAY BE MADE AT PARROTT & RAMSEY FUNERAL HOME.