Norma Ann Cissell, 80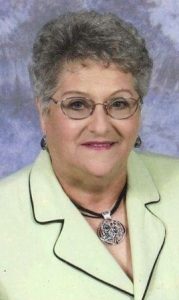 Mrs. Norma Ann Cissell of Campbellsville was born to the late Thomas "Ted" and Mary Cecilia
(Newton) Clark in the Holy Cross community of Marion County on July 25, 1937. She departed
this life on Friday, December 1, 2017 being 80 years, 4 months, and 7 days of age. She professed faith in Christ and was of the Catholic faith. Mrs. Cissell retired from the Fruit of the Loom plant in Campbellsville after many years of dedicated service. She was the wife of William
Charles "Charlie" Cissell, who preceded her in death on June 18, 2007. She had a big heart, living her life as a gift to others, and was a close and trusted friend to all that knew her.
She leaves to mourn her passing:
Five children: Janet Lavonne Murley and husband Walter Ronald of Campbellsville, Charles Timothy Cissell and wife Sandra of Campbellsville, Pamela Gail Wethington and husband
Stanley of Columbia, Laeticia Ann Stubbs and husband Larry of Campbellsville, and Todd
Cissell and wife Libby of Campbellsville,
Ten brothers and sisters: Betty Newton of Bardstown, Rita Reidle of Colorado, June Fleming
and husband Don of Colorado, Polly Livers and husband David of Bardstown, Frank Clark and
wife Pat of Colorado, Darlene Armel and husband Gene of Illinois, Marlene Clark of Bardstown,
Connie Redmond and husband Doug of Frankfort, Junior Clark and wife Janet of Bardstown,
and Don Clark of Bardstown,
Thirteen grandchildren: Kimberly Cissell, Shane Murley, Jennifer Burris, Jermey Cissell, Jamie
Ford, Aaron Cissell, Jaime Moran, Lindsay Cissell, Michelle Mann, Jessica Chambers, Andrea
Burris, Christopher Wethington, and Brittani Cissell,
Daughter-in-laws: Debra Kae Cissell and Patty Cissell,
Special friends: Pauline Wise and Sissy Ball,
Eighteen Great-Grandchildren and a host of other relatives and friends.
She was also preceded in death by two sons, William Marks Cissell and Thomas Kevin Cissell,
and one brother, Ray Clark.
A Funeral Mass will be held to honor the life of Mrs. Cissell on Wednesday, December 6,
2017 at 11:00 AM at Our Lady of Perpetual Help Catholic Church, 213 University Drive,
Campbellsville, KY. Father Saju Vadakumpaden will be officiating. She will be laid to rest beside
her husband in the church cemetery, and will be carried there by Shane Murley, Jermey Cissell,
Christopher Wethington, Aaron Cissell, Kane Wilson, and Jordan Watkins. Serving as honorary
pallbearers will be her granddaughters.
The family will receive visitors at the L.R. Petty Funeral Home, 1765 New Columbia Rd,
Campbellsville, KY on Tuesday, December 5, from 4:00-8:00 PM and on Wednesday morning
until 10:30 AM.
A Prayer Service will be held on Tuesday evening at 7 PM at the funeral home.
To honor her giving spirit, the family has requested memorials take the form of donations to the
funeral expenses of a less fortunate person's final expenses. Those can be made in person at
the funeral home, or online at www.lrpetty.com