Kathryn "Katy" Kiger, 68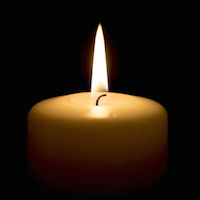 Mrs. Kathryn "Katy" Kiger of Campbellsville, daughter of the late Harold Foley and Mary Cathrine (Anderson) Watson, was born on September 6, 1949 in Pulaski County and departed this world on Sunday, December 10, 2017 at the Taylor Regional Hospital. She was 68 years, 3 months, and 4 days of age. She professed faith in Christ and was of the Baptist faith. With a natural love for people, both friends and strangers, she found success as the owner of the Lucky Vista Motel. Mrs. Kiger was also a talented seamstress, and made beautiful wedding and prom dresses and elaborate Halloween costumes. She was an avid reader and had a wide range of knowledge that was only surpassed by her love for her children and grandchildren, both natural and chosen.
She leaves to cherish her memory:
Her husband: Michael G. Kiger,
Three children: Robert Christopher Arnett and wife Janna of Florida, Michael G. Kiger, Jr. of Campbellsville, and Mary Heather Freson and husband Jeff of Ohio,
Innumerable chosen children she loved and helped raise,
Two sisters: Cassandra Miller and husband Thomas of Massachusetts, Nina Louise McClure and husband Michael of Georgia,
A brother-in-law: James C. Kiger and wife Angela,
Five grandchildren: Maura Katlyn, Bridgette Kristine, Joshua Brendan, Anabelle Mary, and Anthony Mikal,
Five great-grandchildren: Kathryn Sincerity, Kierre Adream, Kimani Khyee, Kionte Joshua, and Penny Lane,
Special friends: Sandy Richardson, Carol Jean Long, Tina Hartman, Nina Wethington, Marcia Allen, Cindy Coker, and Rita Bob,
And a host of other family and close friends.
There will be a memorial service to honor the life of Mrs. Kiger on Saturday, December 16, 2017 at 4:00 PM in the chapel of the L.R. Petty Funeral Home, 1765 New Columbia Rd, Campbellsville, KY. Bro. Haywood Riner will be officiating.
The family will receive friends at the funeral home on Saturday after 1:00 PM until time for the service.
In honor of Mrs. Kiger's giving heart, the MGK Fund has been established at the Taylor County Bank in Campbellsville. In lieu of flowers, please consider memorials to this fund, as it benefits the charities and organizations dearest to Mrs. Kiger. Those can be made in person at the funeral home or any Taylor County Bank location.