Larry Yocum, 65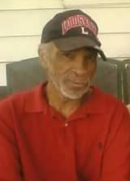 Mr. Larry Vonzell Yocum, Sr., of Lebanon, son of the late James William and Prudy Garnelle (Railey) Yocum, passed from this life on Wednesday, December 13, 2017 at his home. Born on July 20, 1952, he was 65 years, 4 months, and 23 days of age. Mr. Yocum was a truck driver, and had served his country honorably in the United States Army. He had made a profession of faith in Christ and was a member of the Mt. Zion Baptist Church in Shelbyville.
He leaves to mourn his passing:
His wife: Martha J. (White) Yocum of Lebanon,
Two children: Larry Vonzell Yocum, Jr. and wife Angela M. of Taylorsville, and Charles White of Lebanon,
Six siblings: Thomas Yocum and wife Liz, Joseph Yocum and wife Jeanie, Robert Yocum and wife Katie, Sarah Overall and husband Ronnie, and Wanda Yocum, all of Shelbyville, and Martha Yocum of Louisville,
Nine grandchildren: Chrissy Rogers and husband Austin Bruner, Wesley Yocum, Stephon Yocum, Crystal Yocum, Larry Yocum, III, Destiny Marie Rogers, Tyler Chase Owens, Tiffany Reed, and Natalie Owens,
Three great-grandchildren: Mariana Aguayo, Carlos Aguayo, and Bailey Marie Yocum,
And a host of other family and friends.
He was also preceded in death by a son, John Rogers.
Cremation rites were entrusted to the L.R. Petty Funeral Home and Cremation Service in Campbellsville. A memorial service will be conducted at a later date.