Darrison "DS" Bowling, 72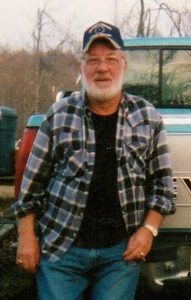 Mr. Darrison "D.S." Bowling of Campbellsville was born on October 4, 1945 in Redbird, KY to the late Troy and Lula (Napier) Bowling. He departed this life on Sunday, December 24, 2017 at his home, being 72 years, 2 months, and 20 days of age. Mr. Bowling was a logger and truck driver by trade. He had made a profession of faith in Christ and was of the Baptist faith.
He leaves to mourn his passing:
One son: Darin Bowling and wife Kim of Manchester, KY,
Four siblings: Ernest Bowling, Edgar Bowling, and Lushin Bowling, all of London, KY, and Minnie Collett of Redbird,
Seven grandchildren,
Seven great-grandchildren,
And a host of other family and close friends.
He was also preceded in death by a son, James Douglas Wilhoit.
There will be a funeral service to honor the life of Mr. Bowling on Friday, December 29, 2017 at 1:00 PM EST (12:00 PM CST) in the chapel of the L.R. Petty Funeral Home, 1765 New Columbia Rd, Campbellsville, KY. Bro. Dale Warren and Bro. Odell Warren will be officiating. Burial will follow in the Murphy-Wilhoit-Lotter Cemetery in the Sandy Y community of Taylor County.
The family will receive friends at the funeral home on Thursday, Dec. 27, from 5:00-8:00 PM EST (4:00-7:00 PM CST).