Frances "Frankee" Gabehart. 65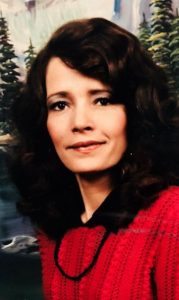 Mrs. Frances (Ford) "Frankee" Gabehart of Campbellsville passed from this life on Sunday, December 24, 2017 at her home. Born in Lebanon to Mary M (Hill) Ford and the late Joseph L. Ford, she was 65 years, 1 month, and 26 days of age. She was the wife of Wilbur "Buddy" Gabehart, who preceded her in death in May 2017. Mrs. Gabehart professed faith in Christ and was of the Baptist faith. She had a heart of gold and always made sure the people she loved were cared for and happy.
Besides her mother, Mary M. Ford of Marion County, she also leaves to cherish her memory:
One daughter: Renee Hearon and husband Chris of Campbellsville,
Two step-daughters: Tracy Gabehart-Werner and husband Dana of Shepherdsville, and Karlee Campbell of Louisville,
Eight siblings: Teresa Simpson and husband Wesley of Gravel Switch, Billy Ford and wife Pam of Campbellsville, Dorothy Carroll and husband Dan of Elizabethtown, Mary Wheatley and husband Ricky of Raywick, Tammy Payne and husband Curtis of Lebanon, James Ford and companion Kristie Perkins of Lebanon, Marty Simpson and husband Todd of Gravel Switch, and JoAnn Atwell and husband Charlie of Lebanon,
One grandson: Blake Hearon,
Four step-grandchildren: Megan King, Emilee Gabehart, Zach Ginter, and Baylen Campbell,
And a host of nieces, nephews, cousins and other family and friends.
She was also preceded in death by a brother, Buddy Ford.
There will be a funeral service to honor the life of Mrs. Gabehart on Thursday, December 28, 2017 at 1:00 PM in the chapel of the L.R. Petty Funeral Home, 1765 New Columbia Rd, Campbellsville, KY. Bro, Jim Collison will be officiating. Mrs. Gabehart will be laid to rest beside her late husband in the Jones Chapel Cemetery, Hwy 1752, Taylor County, KY.
The family will receive friends at the funeral home on Thursday, Dec. 28, after 11:30 AM until time for the service.
In lieu of flowers, please consider memorials in the form of donations to Hosparus of Green River.