Nora Lee Minor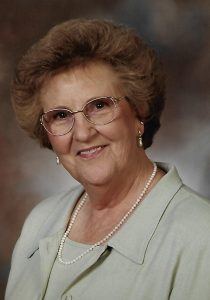 Nora Lee Minor of Campbellsville, daughter of the late Tom Edelen and Maude Murray Edelen, was born September 27, 1927 in Taylor County, Kentucky. She died at 7:10 A.M., Friday, December 29, 2017 in Campbellsville. Age: 90
She professed faith in Christ and was a member of Acton Baptist Church.
Nora Lee was the retired owner and operator of Minor's Jeans in Campbellsville for several years.
She united in marriage to Hanley Minor February 21, 1942 and he preceded her in death February 24, 1991.
She is survived by three daughters: Maxine White and husband, Willie, Connie White and husband, Ronnie and Brenda Watson and husband, Doug of Campbellsville; two daughters-in-law: Della Minor and Kathy Gilpin; nine grandchildren; twelve great-grandchildren; two great-great-grandchildren; one brother and four sisters: Howard Edelen, Pearl Blevins, Barbara Powell, Joyce Davis of Campbellsville and Bernice Benningfield of Jefferson County; a sister-in-law, Louise Smothers of Mannsville; several nieces and nephews and many other relatives and friends.
She was also preceded in death by two sons: Kenneth Minor May 9, 2011 and Paul Minor June 2, 1991 and one brother and two sisters: Wesley Edelen, Wilma Edelen and Lola Nell Hickey.
VISITATION: After 10:00 A.M., Sunday, December 31, 2017 at Parrott & Ramsey Funeral Home
FUNERAL SERVICE: 2:00 P.M., Sunday, December 31, 2017 at Parrott & Ramsey Funeral Home by Bro. John Batcher
BURIAL: Campbellsville Memorial Gardens
EXPRESSIONS OF SYMPATHY REQUESTED TO BE DONATIONS TO GIDEON BIBLES AND MAY BE MADE AT PARROTT & RAMSEY FUNERAL HOME