David Wilson, 83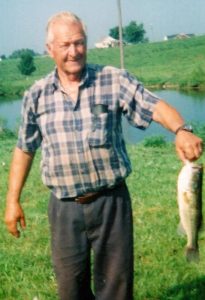 Mr. David Woodrow Wilson of Campbellsville passed away on Tuesday, January 2, 2018 at the Campbellsville Nursing and Rehabilitation Center. Born to the late Vester Howard and Sarah (Abbott) Wilson on Febuary 14, 1934, he was 83 years, 10 months, and 19 days of age. Mr. Wilson was a family man and shared nearly 60 years of marriage and devotion with his wife, Leora (Halcomb) Wilson. He was a farmer and woodworker and supported his family building and selling miniature cabins and dollhouses, birdhouses, rocking chairs, and other items.
Besides his wife, Leora Wilson, he leaves to cherish his memory:
Two children: Danny Lee Wilson and wife Diane, and Kathy Jo Clark and husband Berry, all of Campbellsville,
Two brothers: Willie Wilson of Green County, and Roscoe Wilson of Madisonville,
Five grandchildren: Troy Wilson, Nicki Wilson, Heather Wilson, Daniel Clark, and Benjamin Clark,
Two great-grandchildren: Mattie Elizabeth Clark and Luna Fae Clark,
And a host of other family and friends.
He was also preceded in death by six siblings: Paul, Charlie, Robert, Eugene, Larry, and Helen.
There will be a funeral service to honor the life of Mr. Wilson on Thursday, January 4, 2018 at 2:00 PM EST (1:00 PM CST) in the chapel of the L.R. Petty Funeral Home, 1765 New Columbia Rd, Campbellsville, KY. Bro. Raymond Clark and Bro. Freddy Thompson will be officiating. Burial will follow in the Wilson Cemetery, Gabe Rd, Summersville, KY.
The family will receive friends at the funeral home on Thursday, Jan. 4, after 11:00 AM EST (10:00 AM CST).