Joe Agostini, 42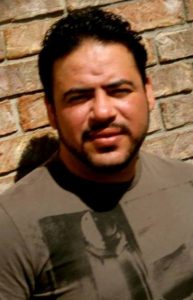 Mr. Joe Agostini of Columbia was born in New German, Puerto Rico on October 14, 1975 to Iris Torres and the late Jose Agostini. He departed this life on Sunday, December 31, 2017 at his home after a brief yet brave battle with ALS. He was 42 years, 2 months, and 18 days of age. Mr. Agostini was employed by the Occupational Safety and Health Administration and the Department of Juvenile Justice at the Adair Youth Development Center. He had made a profession of faith in Christ and was a member of the Columbia Seventh Day Adventist Church. He was a man passionate in his beliefs; he loved nature, be it fishing or hiking, and was continually amazed and blessed to be interacting with God's creations. His love of God was also evidenced by his love of children, and he held a special place in his heart for the kids he worked with.
He leaves to cherish his memory:
His wife: Sandy Wheeler of Columbia,
His mother and step-father: Iris and Domingo Perez of Puerto Rico,
One sister: Wanda Agostini of Oklahoma,
One brother: Luis Mark Gonzalez and wife Neysha Santiago of Puerto Rico,
Six sisters-in-law: Linda and J.W. Hendrickson, Diane and Doug Hatcher, Connie Wheeler, and Pat Downey, all of Columbia, Phyllis and Jerry Kearney of Campbellsville, and Jeannie and Kerry Cox of Mannsville,
And a host of close nieces, nephews, cousins, aunts and uncles, and other family and friends.
He was also preceded in death by a close brother-in-law, Donnie Wheeler.
There will be a funeral service to honor the life of Mr. Agostini on Friday, January 5, 2018, at 1:00 PM EST (12:00 PM CST) at the Columbia Seventh Day Adventist Church, 100 SDA Church Rd, Columbia, KY. Pastor Fred Caulkins and Pastor Michelle Perdy will be officiating. Burial will follow in the Haven Hill Cemetery, Hwy 206, Columbia, KY.
The family will receive friends at the church on Friday, Jan. 5, after 11:00 AM EST (10:00 AM CST).
In lieu of flowers, please consider memorials in the form of donations to the Columbia Seventh Day Adventist Church Youth, the Adair Youth Development Program, and/or J.O.Y. Ministries. Those can be made in person at the church before the service, any time at the funeral home, or online at www.lrpetty.com
"The only thing you take with you is your character." – Mr. Jose Angel "Joe" Agostini