Richard Terrill, Sr., 66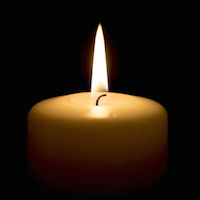 Mr. Richard Francis Terrill, Sr. of Campbellsville, formerly of Connecticut, was born on January 29, 1951 and departed this life on Friday, January 19, 2018 at the Taylor Regional Hospital after an extended illness. He was 66 years, 11 months, and 20 days of age. Mr. Terrill spent over 45 years of his working life driving a truck, and only retired when his health forced him to.
He leaves to mourn his passing:
One son: Richard Terrill, Jr. of Campbellsville,
A former spouse and close friend: Lorna Foley of Campbellsville,
One brother: Anthony Beglay of Conecticut,
Two grandchildren: Dylan Terrill and Bryson Terrill,
And a host of other extended family and friends.
At the request of Mr. Terrill, cremation was chosen. The L.R. Petty Funeral Home and Cremation Service in Campbellsville was honored to carry out his wishes. There was no public visitation.