Gary Stapleton, 73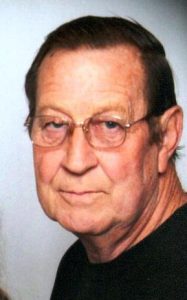 Mr. Gary Wayne Stapleton of Elkhorn passed away on Saturday, February 10, 2018 at the Otterbein Senior Life Center in Franklin, Indiana. Born on June 30, 1945 in Adair County to the late Dempsey and Mary Eunice (Scott) Stapleton. He was 73 years, 7 months, and 11 days of age. Mr. Stapleton retired from the road after several years as a truck driver. He had made a profession of faith in Christ and was of the Baptist faith. He was a talented woodcarver and painter, and had a knack for repairing small engines, and loved collecting trinkets and building handmade toys.
He leaves to cherish his memory:
Four sons: Bradley Stapleton and wife Debi, Jerry Stapleton and wife Lisa, Jody Stapleton and wife Britany, and Randall Stapleton, all of Indiana,
Ten siblings: Bennett Stapleton and wife Wanda of Indiana, Carolyn Fowler and husband Larry of South Carolina, Wilbur Scott and wife Teresa of Campbellsville, Rita Seaborne and husband Junior of Campbellsville, James "Jim" Scott of Indiana, Darrell Scott and wife Sandy of Columbia, Frances Edwards and husband Doug of Danville, Jane Elliot of North Carolina, Margaret Luckett and husband Steve of Lebanon, and Renita Mays and husband Scott of Campbellsville,
Several grandchildren,
And a host of other family and friends.
He was also preceded in death by his wife, Wilma (Woodall) Stapleton, five siblings, Joyce Thompson, Lewis Scott, twins Shirley Gail Scott and Larry Dale Scott, and Sherry Lynn Scott.
There will be a funeral service to honor the life of Mr. Stapleton on Wednesday, February 14, 2018 at 1:00 PM EST in the chapel of the L.R. Petty Funeral Home, 1765 New Columbia Rd, Campbellsville, KY. Bro. Darrell Tucker will be officiating. He will be laid to rest beside his wife in the Callahan Cemetery, 4571 Speck Ridge Rd, Feathersburg, Adair County, Kentucky, 42733.
The family will receive friends at the funeral home on Wednesday, February 14, after 10:00 AM EST until time for the service.