Dallas Graybeal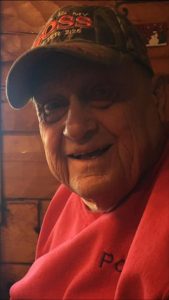 Dallas Graybeal of Campbellsville, son of the late Bascom Graybeal and Alice Osborne Graybeal, was born August 24, 1936, in Taylor County, Kentucky. He died at 5:57 P.M., Saturday, February 17, 2018 in Campbellsville at age 81.
He professed faith in Christ and attended Palestine Baptist Church.
Dallas was a very skilled carpenter and worked hard at everything in life. He was self employed where he installed windows, doors and worked with aluminum siding. Even though he loved working, nothing compared to his love for family.
He united in marriage to Frances Herron April 20, 1957 and she preceded him in death April 3, 2016.
He is survived by one daughter and son-in-law, Delitha and Mark Shreve of Campbellsville; his chosen children: Van Herron and wife, Maurita, Audrey Robison, Arvin "Bubby" Herron and wife, Wanda, Lester Herron, Robert Kearney and wife, Judy and Dee Dee Sinclair and husband, Walt; four grandchildren: Jessica Coghill and husband Tim, Lesley Newton and husband, Troy of Campbellsville, Lindsey Coppock and husband, Chris of Lenoir City, Tennessee and Shawn Shreve of Knoxville, Tennessee; nine great-grandchildren; two sisters: Ruby Hixson and husband, Ronald and Carolyn Smith and husband, Don of Campbellsville; sister-in-law, Pauline Graybeal of Campbellsville; and good friend, Denny Brown; several nieces and nephews and many other relatives and friends.
He was also preceded in death by two brothers and three sisters: Wilma Herron, Opal Shofner, Georgia Graybeal, Herbert Graybeal and Smith Graybeal.
VISITATION: After 11:00 A.M., Wednesday, February 21, 2018 at Parrott & Ramsey Funeral Home
FUNERAL SERVICE: 1:00 P.M., Wednesday, February 21, 2018 at Parrott & Ramsey Funeral Home by Bro. Tim Coghill and Rev. A. Landon Hadley
BURIAL: Campbellsville Memorial Gardens
EXPRESSIONS OF SYMPATHY ARE REQUESTED TO BE DONATIONS TO GIDEON BIBLES AND MAY BE MADE AT PARROTT & RAMSEY FUNERAL HOME