Walter Gregg Young, Sr.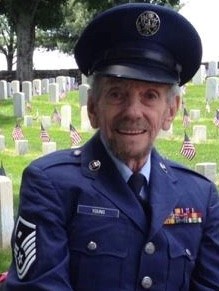 Walter Gregg Young, Sr. of Campbellsville, son of the late Walter Chaney Young and Juanita Jean Powell Young, was born January 12, 1934 in Jefferson County, Kentucky. He died at 7:30 P.M., Tuesday, May 1, 2018 in Elizabethtown. Age: 84
Walter served his country honorably in the United States Air Force during the Vietnam War and proudly retired after twenty-four years.
He was a member of the American Legion Edwards-O'Banion Post No. 82.
He is survived by one son and one daughter: Walter Gregg Young, II and wife, Brenda of Palm Bay, Florida and Juanita Ann Young of Campbellsville; two grandchildren: Abby Young and Hunter Young of Florida and many other relatives and friends.
He was also preceded in death by a daughter, Michelle Rae Young August 23, 2017.
_______________
VISITATION: 9:00 – 11:00 A.M., Friday, May 25, 2018 at Parrott & Ramsey Funeral Home
FUNERAL SERVICE: 11:00 A.M., Friday, May 25, 2018 at Parrott & Ramsey Funeral Home by Chaplain Steve Orr
BURIAL: Lebanon National Cemetery with full military honors by the Marion County Veterans Honor Guard
EXPRESSIONS OF SYMPATHY REQUESTED TO BE DONATIONS TO THE AMERICAN LEGION EDWARDS-O'BANION POST NO. 82
AND MAY BE MADE AT PARROTT & RAMSEY FUNERAL HOME