Randy Joe Phelps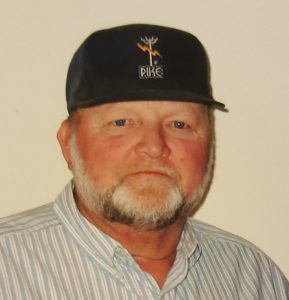 Randy Joe Phelps of Campbellsville, son of the late Jamie Phelps and Thelma Harrington Phelps, was born August 3, 1953 in Pulaski County, Kentucky. He died Friday, May 4, 2018 in Campbellsville. Age: 64
Joe was a co-owner of Phelps Electric and also worked as a Foreman for Pike Electric Construction.
Joe professed faith in Christ and was a member of St. Mark United Methodist Church.
He enjoyed spending time and talking with family and friends, being outdoors and watching old westerns.
He united in marriage to Kathy Erp on September 20, 1984.
Besides his wife of thirty-three and a half years, Kathy Phelps of Campbellsville, he is survived by five daughters and one son: Nikki Phelps of Elizabethtown, JoAnna Finney and husband, Michael, and Misty Matheny and husband, Michael of Lexington, Tiffany McCoy and husband, Jason of Nicholasville, Kim Slone and husband, William of Somerset and Joe Phelps and wife, Kathy of Richmond; fifteen grandchildren: Logan Carmickle, Kyle Phelps, Marshall Finney, Lilli Finney, Mason Matheny, Ella Matheny, Jameson Matheny, Anna Kate Matheny, Emme Matheny, Hunter Vaughn, Nicolas Vaughn, Wesley McCoy, Keegan McCoy, Julie Masticola and Reagen Masticola; one brother and one sister: Harvey Phelps and wife, Dorothy of Somerset and Patsy Crowe and husband, Charlie of Somerset; several nieces and nephews and many other relatives and friends.
He was preceded in death by four brothers and one sister: Johnny Lewis Phelps, Rocky Phelps, Ronnie Phelps, Robert Phelps and Kay Keeney.
_______________
VISITATION: 5:00-8:00 P.M., Sunday, May 6, 2018 at Parrott & Ramsey Funeral Home in Campbellsville
11:00 A.M.-1:00 P.M., Monday, May 7, 2018 at Lake Cumberland Funeral Home in Somerset
FUNERAL SERVICE: 1:00 P.M., Monday, May 7, 2018 at Lake Cumberland Funeral Home in Somerset by Rev. Tony Franklin
BURIAL: Piney Grove Cemetery #1, Pulaski County, Kentucky