Joe Knopp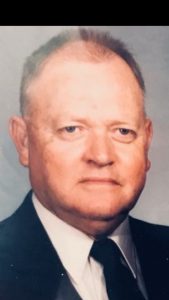 Joe Knopp of Campbellsville, son of the late Joe Knopp and Hazel Shipp Knopp, was born January 8, 1929 in Taylor County, Kentucky. He died at 11:05 P.M., Friday, May 11, 2018 in Campbellsville. Age: 89
Joe served his country honorably in the United States Army and served two tours of war in Germany during the Korean conflict. He was a retired employee of Kroger after thirty nine years of dedication. He professed faith in Christ and was a member of Our Lady of Perpetual Help Catholic Church.
He united in marriage to Frances Bennett February 3, 1951 and she preceded him in death March 6, 1990.
He is survived by one daughter and three sons: Connie Stiles and husband, Roger, Sam Knopp and wife, DeLisa and Terry Knopp of Campbellsville and Tommy Knopp of Tampa, Florida; five grandchildren: Tiffany Lyons and husband, Adam of Fulton, Amy Knopp of Knifley, Missy Knopp and Savannah Lewis and husband, Zach of Campbellsville and TJ Knopp of Tampa, Florida; six great-grandchildren: Kaitlyn Pendleton of Knifley, Preston Cappiello of Columbia, Shelby Atwood, Brooke Atwood of Campbellsville, Quinn Lyons and Campbell Lyons of Fulton; one sister-in-law, Shelby Moore of Greensburg; one brother-in-law, Glenn Hawkins of Campbellsville; several nieces and nephews and many other relatives and friends.
He was also preceded in death by seven sisters and two brothers: Edith Hawkins, Ann White, Lucille Yates, Catherine Morgan, Dorothy Knopp, Margaret Knopp, Helen Williams, Marion Knopp and Edwin Knopp.
VISITATION: After 9:00 A.M., Wednesday, May 16, 2018 at Parrott & Ramsey Funeral Home
FUNERAL SERVICE: 1:00 P.M., Wednesday, May 16, 2018 at Parrott & Ramsey Funeral Home by Rev. Fr. Saju Vadakumpadan and Jeff Wright
BURIAL: Brookside Cemetery with full Military Honors by the Marion County Veterans Honor Guard
EXPRESSIONS OF SYMPATHY ARE REQUESTED TO BE DONATIONS TO HOSPARUS OF GREEN RIVER AND MAY BE MADE AT PARROTT & RAMSEY FUNERAL HOME