Christine Graybeal Sprouse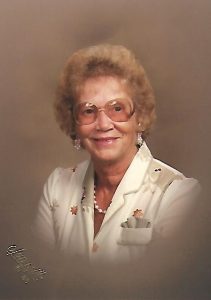 Christine Graybeal Sprouse of Campbellsville, daughter of the late Milton "Spencer" Graybeal and Erie A. Ball Graybeal, was born February 11, 1924 in Taylor County, Kentucky. She died at 9:36 A.M., Saturday, July 7, 2018 in Campbellsville. She was 94 years, 4 months and 24 days of age.
She professed faith in Christ and was of the Church of God faith.
Christine was a retired employee of Phillip Morris in Louisville. In her spare time, she loved to read and enjoyed working in her flower garden.
She is survived by one son, Jerry Davis of Campbellsville; three grandchildren: Jeremy Daniel Davis, Jennifer Lynn Bell and Jacqueline Nicole Davis all of Campbellsville; four great-grandchildren and three great-great-grandchildren; two sisters and three brothers: Shirley Sturtivan and husband, Clifford, Sue Bright, and Larry Graybeal all of Campbellsville, Bearl Graybeal and wife, Ruby of Corbin and Millard L. Graybeal of Louisville; several nieces and nephews and many other relatives and friends.
She was also preceded in death by the father of her son, Edgar Lee Davis; daughter-in-law, Sandra Davis; three brothers and two sisters: Roger Dale Graybeal, Thomas Eli Graybeal, Harold "Jack" Graybeal, Helen Thomas and Aileen McDaniel Huff.
VISITATION: After 10:00 A.M., Tuesday, July 10, 2018 at Parrott & Ramsey Funeral Home
FUNERAL SERVICE: 1:00 P.M., Tuesday, July 10, 2018 at Parrott & Ramsey Funeral Home by Bro. Harold Dupps
BURIAL: Elliott Cemetery
EXPRESSIONS OF SYMPATHY REQUESTED TO BE DONATIONS TO HOSPARUS OF GREEN RIVER AND MAY BE MADE AT PARROTT & RAMSEY FUNERAL HOME