Julia "Judy" Franklin, 64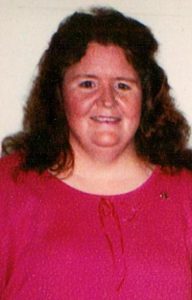 Mrs. Julia Francis "Judy" Franklin of Campbellsville, currently a resident of Glasgow State Nursing Facility in Glasgow, daughter of the late William Edward Sr. and Dorothy Louise (Dollar) Franklin, was born Saturday, May 8, 1954 in Louisville. She departed this life on Tuesday, August 7, 2018 in Glasgow at the T. J. Samson Community Hospital. She was 64 years, 2 months, and 30 days of age.
She had made a profession of faith in Christ and was a member of the Mt. Gilboa Baptist Church. Mrs. Franklin, or Judy, as she was affectionately known, was a former nurse's aid and a cosmetologist. Her big heart, quick smile, and daily acts of kindness will be dearly missed.
Survivors include:
Two brothers: Bill E. "Jack" Franklin and wife Lana, and Paul Douglas Franklin, all of Campbellsville,
A close uncle: Ray Franklin and wife Joanie of Louisville,
A special niece and nephew: Michell Hedgespeth and husband Steven of Louisville, and Val Hardin of Campbellsville, and their families,
And a host of other relatives and friends.
Besides her parents, she was preceded in death by a sister, Debra Faye Hunt.
The funeral service for Julia Francis "Judy" Franklin, will be Saturday, August 11, 2018 at 11:00 A.M. in the chapel of the L.R. Petty Funeral Home with burial to follow in the Mt. Gilboa Cemetery.
Bro. J.T. Rafferty officiating.
Family requests visitation from 5-8 PM on Friday at the funeral home.