Donald Ray Dease, 54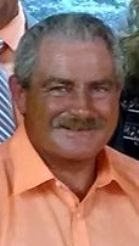 Mr. Donald Ray Dease of Campbellsville, son of the late Rev. Jimmie J. and Ernestine (Cooper) Dease, passed away on Saturday, August 11, 2018 after an accident while working. Born on February 3, 1964 in Georgetown, South Carolina, he was 54 years, 6 months, and 8 days of age. Mr. Dease had made a profession of faith in Christ and attended the Greensburg Separate Baptist Church. He was also a member of the Trinity Gospelaires, a locally renowned singing group.
He leaves to mourn his passing:
His wife: Danette (Miller) Dease,
A daughter: Heather Dease and husband Wayne,
A son: Donald Dease, Jr. and wife Alecia,
Four grandchildren: Daniel, Amber, Autumn, and Dylan,
Two stepchildren: Magen Dean and James Dean, III,
His stepmother: Mary M. Dease,
Four sisters: Sarah Nettles and husband Clayton, Ann Everette and husband Wade, Rachel Summerlin, and Margaret Holden,
Five brothers: Brachel Dease and wife Alanda, Wade Dease and wife Maryann, Lavon McCutcheon and wife Dale, Frank James and wife Pam, and Dallas Dease and wife Marilyn,
Special godparents: Marilyn and Sherman Dudley,
And a host of other family and friends.
He was also preceded in death by five brothers: Johnnie James, Jr., Jimmie Albert, Baby Dease, Aaron Lewis, and Ronald James.
There will be a local visitation on Monday, August 13, 2018 from 5:00-8:00 PM EST (4:00-7:00 PM CST) in the chapel of the L.R. Petty Funeral Home, 1765 New Columbia Rd, Campbellsville, KY.
MEMORIALS ARE SUGGESTED TO THE FUNERAL EXPENSE FUND, WHICH CAN BE MADE AT THE FUNERAL HOME.
Mr. Dease will be laid to rest in his hometown in South Carolina. The Morris Funeral Home, 416 N. Main St, Hemingway, SC is in charge of those arrangements.