James "Jim" William Marrs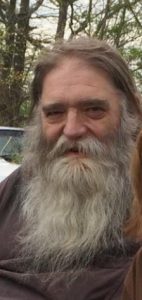 James "Jim" William Marrs of Campbellsville, son of the late Howard Marrs and Ester "Tillie" Leger Marrs, was born March 5, 1953 in Floyd County, Indiana. He died at 3:58 P.M., Friday, November 23, 2018 in Campbellsville. Age: 65
James professed faith in Christ and was of the Baptist faith. He was a retired farmer who could be described as a hard working man. James enjoyed playing his guitar and could draw a crowd by his larger than life personality. When he was able he enjoyed hunting, trapping and fishing. James also enjoyed learning of his family genealogy and family history. Above all he was a loving husband, father and grandfather.
He united in marriage to Linda Robertson March 10, 1974. She preceded him in death January 25, 2015.
He is survived by one son and two daughters: James William Marrs Jr. and wife, Desiree and Mary Kendall and husband, Jimmy Kendall II of Campbellsville and Angela Akin of Greensburg; twelve grandchildren: Bradley Madden and wife, Angie and Jamie Madden of Salem, Indiana, Pamela Collins, Josh Kendall, Joe Kendall, Jonah Kendall and wife, Amber, Hailey Kendall, Jesse Kendall, Meghan Marrs, Emily Marrs and Ava Marrs all of Campbellsville and Alexander Marrs of Lebanon; eight great-grandchildren; two sisters and two brothers: Betty Bryant and husband, Lonnie of New Albany, Indiana, Benny Marrs and wife, Debbie of Fredericksburg, Indiana, Jane Senn and husband, Raymond of Milltown, Indiana and George Marrs and wife, Rhonda of Campbellsville; brothers and sisters-in-law: Marvin Robertson and wife, Elaine of Louisville, Jim Abrams of Pekin, Indiana, Robbie Robertson of Sellersburg, Indiana, Eddie Robertson and wife, Donna of Elizabeth, Indiana, and Melissa Neese of Marengo, Indiana; several nieces and nephews and many other relatives and friends.
He was also preceded in death by two brothers: Lewis Edward Marrs in infancy and John Marrs.
VISITATION: After 10:00 A.M., Tuesday, November 27, 2018 at Parrott & Ramsey Funeral Home
FUNERAL SERVICE: 1:00 P.M., Tuesday, November 27, 2018 at Parrott & Ramsey Funeral Home by Bro. Michael Goodwin
BURIAL: Salem Baptist Church Cemetery