Teresa Waymon, 81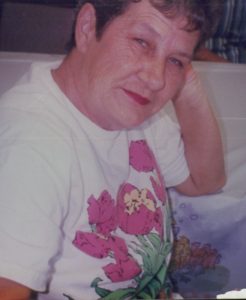 Mrs. Teresa Jane Waymon of Campbellsville passed away on Sunday, December 2, 2018 at her home after an extended illness. Born on December 7, 1936 to the late William Heril and Edith Elizabeth (Wethington) Clements in Casey County, she was 81 years, 11 months, and 25 days of age. She was the cherished wife and homemaker to Mr. Donald Doyle Waymon, who preceded her in death on September 17, 2018. Mrs. Waymon was a former employee of the Fruit of the Loom plant in Campbellsville and she loved to babysit for her family and friends. She had made a profession of faith in Christ and attended the Victory Church.
She leaves to mourn her passing:
Two daughters: Beverly Lacefield and companion Tommy Houk of Elizabethtown, and Judy Simpson of Campbellsville,
Three siblings: Emogene Johnson and husband Amos of Campbellsville, Gary Clements and wife Reba of Casey County, and Tom Clements and wife Charlotte of Casey County,
Six grandchildren: Paige Lacefield, Trenton Waymon, Josh Simpson, Justin Simpson, Bessie Wethington, and April Smith and husband Gary,
Five great-grandchildren,
And a host of other relatives and friends.
She was also preceded in death by three children, Doyle Eugene Waymon, Joseph Garnett Waymon, and Richard DeWayne Waymon; six siblings, Harold Waymon, Joe Waymon, Charles Waymon, Edgar Waymon, Vernon Waymon, and Selma Miller; and two grandchildren, David Joe Kerr, and Samantha Jo Simpson.
There will be a funeral service to honor the life of Mrs. Waymon on Wednesday, December 5, 2018 at 10:00 AM in the chapel of the L.R. Petty Funeral Home, 1765 New Columbia Rd, Campbellsville, KY. Bro. Keith Fields and Bro. Carol Perkins will be officiating. Burial will follow in the Elliot Cemetery on Speck Ridge Rd.
The family will receive friends at the funeral home on Tuesday, December 4, from 5:00-8:00 PM.