Jessie Davis, 59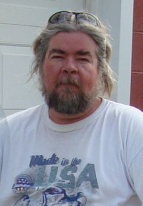 Jessie Lee Davis stepped into eternity December 18, 2018. He was born December 9, 1959 and had just celebrated his 59th birthday. His wife, Cathy, of 38 years and their daughter, Jacqueline, survives Jessie along with his sister, Brenda Orr, and husband Steve of Campbellsville. Jessie's parents, Lee and Ruby Davis, and many aunts and uncles preceded him in death. He was a graduate of Campbellsville High School. The coworkers and customers on Interstate Auto Parts where he worked before moving to Lexington will fondly remember Jessie Davis. He will also be remembered for his passion for his motorcycle and distributing Bibles with the Christian Motorcycle Association along with his wife Cathy. Jessie was a Christian and a loving and dedicated father and husband as well as a friend to many.
Jessie chose to be cremated without a funeral service, but there will be a memorial service after the Christmas holidays.
This obituary is a courtesy to the family by L.R. Petty Funeral Home in Campbellsville.