William Clavis Wright, 43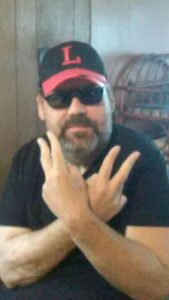 Mr. William Clavis Wright of Greensburg passed from this life on Friday, December 21, 2018 in Louisville at the Baptist East Hospital. Born on May 22, 1975 to Ella (Taylor) Wright and the late Gary Clavis Wright, he was 43 years, 6 months, and 29 days of age. He had made a profession of faith in Christ and was of the Pentecostal faith. Mr. Wright suffered many disabilities most of his life, yet he often found time to sing and loved playing music. He kept his mind sharp and was a competitive card player, and was an avid University of Louisville fan.
He leaves to mourn his passing:
His mother: Ella Wright of Greensburg,
One sister: Angela Escudero of Columbia,
One brother: Gary Wright of Campbellsville,
A special friend: Shelagh Smith of Greensburg,
And a host of other family and close friends.
There will be a funeral service to honor the life of Mr. Wright on Thursday, December 27, 2018 at 2:00 PM EST (1:00 PM CST) in the chapel of the L.R. Petty Funeral Home, 1765 New Columbia Rd, Campbellsville, KY. Bro Wayne Keith will be officiating. Burial will follow in the Columbia Cemetery, Campbellsville St, Columbia, KY.
The family will receive friends at the funeral home on Thursday, Dec. 27, from 11:00 AM -2:00 PM EST (10:00 AM -1:00 PM CST).