Dr. John B. Skaggs. 73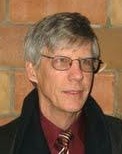 The family of John Baker Skaggs, PhD sadly announce his departure from life on March 16, 2019 after a long, arduous battle with autoimmune disease and bone marrow failure.
John was born to Lester and Ruth (Coffman) Skaggs in Los Alamos, NM on March 30, 1945. There are few pictures of him as a baby because his father was working on the design of the atomic bomb that ended World War II, so all the families there were under tight security and cameras were not allowed. Throughout his life, John remained fascinated with the history of WWII and in 2017 was able to visit England, France, Belgium and the Netherlands to see many of the historic sites and monuments. It was a Bucket List trip of a lifetime and he enjoyed it immensely.
During his college years at Carlton College, John served as a canoe guide and counselor at Camp Menogyn, a YMCA camp based in Minneapolis. As a young guide, John was greatly influenced by Camping Program Director Armand Paulson, who remained a dear friend for the rest of John's life. The experiences he had during the many trips he led during those years shaped much of the rest of his life, and he continued to take groups up to the Boundary Waters and Quetico Provincial Park in Ontario for the rest of his life. He loved sharing the beauty of nature and the accomplishment of surviving a true wilderness experience, and enriched many, many lives by his generous guidance.
Driven by a desire to help others, John completed a PhD at the University of Maryland and became a Counseling Psychologist. He served many years in community mental health organizations in Cape Girardeau, MO and Lexington, KY before he struck out on his own to pursue less traditional, but more effective treatment strategies. His clients, many of whom he counted as dear friends, gained tremendously from his efforts to promote personal growth and happiness. Even on his death bed he continued to reach out with encouragement to those still on his mind.
John had a rich and robust spiritual life. He was a member of St Michael's Episcopal Church in Lexington for many years, and continued in a Men's Bible Study every Saturday morning for more than 20 years, attending by phone when he could no longer make the trip to the church. After he and wife Annie purchased a long-dreamed-of farm in Taylor County, he also served the Mission of St Thomas in Campbellsville, KY for as long as he was able. He and his family are eternally grateful for the love and support of the people of both St Michael's and St Thomas.
Another aspect of his spiritual life was John's passion for horses. Coming late to the equestrian world, after he realized that he'd never see his wife or daughter if he didn't visit the barn, John learned to ride at age 50, becoming accomplished enough that he was able to show in small fun mini-trials. He loved his horse, Patrick, and sometimes used the horses in therapy with clients. He loved to share the farm and the beauty of the horses with friends and family.
John was preceded in death by his parents, Lester and Ruth (Coffman) Skaggs and his sister, Mary Ann (Skaggs) Anderson. Also awaiting him across the Rainbow Bridge are faithful companions Fat Albert, Toby, Mandy, Burt, Radar and horse-of-a-lifetime, Norad, with Schoolmaster horse, Bingo. He leaves a heartbroken family and many, many friends. Wife of thirty-three years, Andrea (Chapman) Skaggs, daughter Erika Michelle Skaggs, step-son Ian Timothy Hunley and wife Cassie (Shepherd)Hunley, precious grand-daughter Fiona Ashlyn Hunley and as-yet-unborn grandson baby boy Hunley all face the future with a huge hole in their lives. Sister Margret Skaggs and brother-in-law Bob Salerno will also miss him, as will his dear boyhood friends and cousins Randy and Kendall Foster and their families of Trenton, MO where John spent many blissful young summers on the family farm getting dirty and learning the value of hard work. Also bereaved is third-generation dog Hawkeye, who has spent many days serving as a hospital companion and will remain to comfort those of us left behind.
A memorial service will be planned during warmer weather and John as asked that his remains join his family members going back several generations in the cemetery at Rural Dale Baptist Church in Trenton, MO. Those so moved are asked to give generously of time, talent and treasure to the cause of preserving this earth for our children, grandchildren and those descendants yet undreamed-of to live as richly as have we.