Mark B. Chandler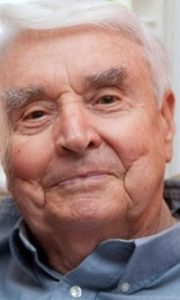 Mark B. Chandler of Campbellsville, son of the late Mark Bridges Chandler, Sr. and Lou Alma Wimsatt Chandler, was born March 28, 1927 in Jefferson County, Kentucky. He died at 5:27 P.M., Sunday, April 7, 2019 in Campbellsville.         Age: 92
He attended Our Lady of Perpetual Help Catholic Church in Campbellsville.
He was a veteran of World War II and the Korean Conflict, having served his country honorably in the United States Navy.
Mark was a retired businessman and accountant. He was president of the Chamber of Commerce in 1968 and worked diligently that year to establish the Taylor County Hospital district to assure Taylor County would continue to have a hospital after the nuns stopped running Rosary Hospital. He was elected Citizen of the Year in 1968.  He was president of Kentucky Association of Accountants 1984 – 1985. Mark had also been manager of the Coca-Cola Bottling plant in Campbellsville. A special hobby he enjoyed was playing golf in Naples, Florida.
He united in marriage to Doris Spalding June 28, 1952 and she preceded him in death August 11, 2014.
He is survived by two daughters: Cindy Chandler and Jill Roberts of Campbellsville; seven grandchildren: Heather Roberts and husband, Wes Keeton, Mark Chandler Roberts, Joan Roberts and James Mark Kennedy of Louisville, Helen Rose Roberts of New Orleans, Louisiana, Ruth Kennedy of Brooklyn, New York and Paul Chandler Kennedy of Bentonville, Arkansas; two great-grandchildren: Stella Rose Keeton and Andrianna Schuler of Louisville; a special cousin who was like a brother, Bill Chandler of Campbellsville; several nieces and nephews and many other friends and relatives.
Mark was also preceded in death by a sister, Mary Martha Chandler Carroll.
_______________
VISITATION:  5:00 – 7:00 P.M., Thursday, April 11, 2019 at Parrott & Ramsey Funeral Home
PRAYER SERVICE:  7:00 P.M., Thursday, April 11, 2019 at Parrott & Ramsey Funeral Home
FUNERAL MASS:     11:00 A.M., Friday, April 12, 2019 at Our Lady of Perpetual Help Catholic Church in Campbellsville by Rev. Fr. Saju Vadakumpadan
EXPRESSIONS OF SYMPATHY ARE REQUESTED TO BE DONATIONS TO FOOD FOR THE POOR AND MAY BE MADE AT FOOD FOR THE POOR.ORG OR AT PARROTT & RAMSEY FUNERAL HOME