Timothy Garcia, 47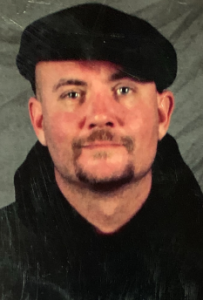 Mr. Timothy Antonio Garcia of Louisville passed from this life on Thursday, April 11, 2019. Born in Boston, Massachusetts on March 12, 1972 to Jose Antonia Garcia and Virginia Marie (O'Rafferty) Marin, he was 47 years of age. He had made a profession of faith in Christ and was of the Christian faith.
Mr. Garcia started working a paper route at age 11, then mowing yards, and continued building a strong work ethic his entire life. As an adult, he was employed by the JeffBoat company in Louisville before its closure in 2018.
He leaves to mourn his passing:
His mother and father: Virginia Marin of Campbellsville and Jose Garcia of Massachusetts,
Ten siblings: Dale O'Rafferty, Angel O'Rafferty, Thomas O'Rafferty, Erika O'Rafferty, Nanay Garcia, Evette Garcia, Maria Garcia, Jose Garcia, Ricardo Garcia, and Elijah Salgado Aguayo,
A close aunt: Gladys Soltren,
Special cousins: Shante Rabouin, Jerry Williams, and Angie Starr,
Local nieces and nephews: Jacob Anderson, Cheyenne Anderson, Isiah Campbell, Gracelyn O'Rafferty, Dallas Durham, Austin Carter, Destiny Tungate, Dakota Tungate, Alex O'Rafferty, and Christian O'Rafferty,
And a host of other family and friends in the Boston and Louisville areas.
There will be a funeral service to honor the life of Mr. Garcia on Saturday, April 13, 2019 at 1:00 PM in the chapel of the L.R. Petty Funeral Home, 1765 New Columbia Rd, Campbellsville, KY. Rev. Michael Coppersmith will be officiating. Burial will follow in the Gaddis Ridge Cemetery, Gaddis Ridge Rd, Taylor County, KY.
The family will receive friends at the funeral home on Saturday, April 13, after 10:00 AM until time for the service.