Vickie Gail Glasgow, 67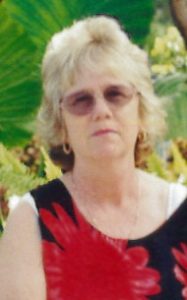 Mrs. Vickie Gail Glasgow of Campbellsville, daughter of the late Charles and Shirley (Gentry) Dennison, passed from this life on Friday, May 10, 2019 at the Taylor Regional Hospital. Born on September 17, 1951, she was 67 years, 7 months, and 23 days of age. She had made a profession of faith in Christ and was a charter member of Grace Missionary Baptist Church.
As a young lady, she fell in love with and married Mr. Murray Glasgow, who survives. She provided a comfortable and welcoming home for her family until her health began to fail. She took great pleasure in raising flowers and garden vegetables, and found solace in fishing or raising a few farm animals, or simply crocheting a heirloom.
Besides her husband, Mr. Murray Glasgow, she leaves to cherish her memory:
Four children: VeAnna Hamilton and husband David of Campbellsville, Kathy Kinsley Harvey of Campbellsville, Phillip "Bo" Hensley and wife Marla of Elizabethtown, and Leanna Parrish of Campbellsville,
Three brothers: Kennie Dennison and wife Connie of Campbellsville, David Dennison and wife Patty of Glasgow, and Ronnie Dennison of Glasgow,
Two sisters: Jean Grammer and husband Bob, and Dianna Baker, all of Campbellsville,
Seven grandchildren: Tatum Hamilton, Whitney Houchens, Addie Grace Harvey, Chloe Harvey, Braden Harvey, Kayla Hensley, and Shane Hensley,
Three great-grandchildren: Maria, Riley, and Alba,
Nieces and nephews: Amy and Daniel Turner, Charlie Dennison, Brian and Lisa White, John and Julie Dennison, Branden Baker, and Troy Dennison,
Great nieces and nephews: Jacob and Angel Turner, Hayden and Shiloh Dennison, Sarah, Elie, Rickey, and Andrew Dennison, Brittany, Alexander, and Bailey Crawhorn, and Dillon,
And a host of other family and friends.
There wil be a funeral service to honor the life of Mrs. Glasgow on Monday, May 13, 2019 at 2:00 at the Grace Missionary Baptist Church, 10187 Hodgenville Rd, Campbellsville, KY. Bro. Terry Gaddie and Bro. Bob Grammer will be officiating. Burial will follow win the church cemetery.
The family will receive friends on Sunday, May 12, from 3:00-8:00 PM at the L.R. Petty Funeral Home, 1765 New Columbia Rd, Campbellsville, KY.