Randall Ray McMahan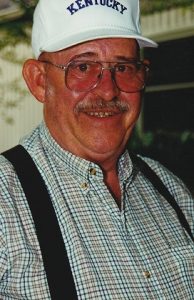 Randall Ray McMahan of Campbellsville, son of the late Finis McMahan and Nona Hinton McMahan, was born September 22, 1936 in Green County, Kentucky. He died at 3:36 A.M., Monday, May 13, 2019 in Campbellsville.       Age: 82
He professed faith in Christ.
Randall was a retired bus driver with TARC.
He united in marriage to Jane Rucker McMahan December 24, 1955 and she preceded him in death November 8, 2005.
He is survived by four sons: Rodney McMahan and Timothy McMahan and significant other, Sara Wyatt of Campbellsville, Anthony McMahan and wife, Deborah of Elk Horn and Jeffrey McMahan of Jeffersonville, Indiana; eight grandchildren: James Ray McMahan and wife, Leah of New Albany, Indiana, David McMahan and significant other, Brittany, Amber Doty and husband, Rusty, Desiree Corona and Brandon McMahan of Campbellsville, Kristen McMahan and Taylor McMahan of Jeffersonville, Indiana, Matthew McMahan of Louisville; fifteen great-grandchildren; four sisters: Rebecca Cox and husband, Darrel, Carolyn Woods and Barbara Kerr Murphy and husband, George of Campbellsville and Juanita Feamster and husband, Allen of Newbury Park, California; several nieces and nephews and many other relatives and friends.
He was also preceded in death by a son, Norman Christopher McMahan November 17, 2018 and two grandchildren.
_______________
VISITATION:  5:00 – 8:00 P.M., Friday, May 17, 2019 at Parrott & Ramsey Funeral Home
FUNERAL SERVICE:  11:00 A.M., Saturday, May 18, 2019 at Parrott Ramsey Funeral Home by Rev. Don Gowin
BURIAL:   Hogards Chapel United Methodist Church Cemetery
EXPRESSIONS OF SYMPATHY REQUESTED TO BE DONATIONS TO THE AMERICAN CANCER SOCIETY AND MAY BE MADE AT PARROTT & RAMSEY FUNERAL HOME