Mary Lou Graham, 75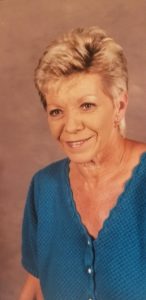 Mrs. Mary Lou (Seay) Graham of Campbellsville, daughter of the late Evelyn (Smith) Seay, was born on June 13, 1944. She passed away suddenly on Tuesday, November 26, 2019 at her home, being 75 years, 5 months, and 13 days of age. She was a former Home Health Aide, and was of the Baptist faith. She lived a quiet and peaceful life, and enjoyed spending time with her family and friends. She was preceded in death by her husband, Billy Graham, in 2002.
She leaves to mourn her passing:
One son: Rondall Beams and wife Hope of Greensburg,
A chosen son: Lloyd Gabbert of Tennessee,
One sister: Barbara Wilkerson of Hardin County,
A beloved sister-in-law: Barbara Seiler of Montana,
Three grandchildren: Charity Cassady, Latisha Clark and husband Chris, and Faith Corbin and husband Alex,
Six great-grandchildren: Molly, Kira, Ethan, Caleb, Lydia, and Abigal,
And a host of other family and friends.
There will be a memorial service to honor the life of Mrs. Graham on Monday, December 2, 2019 at 6:00 PM in the chapel of the L.R. Petty Funeral Home, 1765 New Columbia Rd, Campbellsville, KY. Bro. Jason Shirell will be officiating.
The family will receive friends at the funeral home on Monday, Dec. 2, after 4:30 PM until time for the service.