Juanita Cox, 73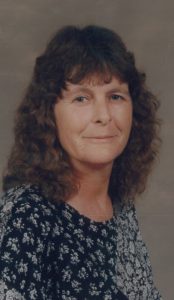 Mrs. Juanita Cox of Campbellsville passed from this life on Thursday, November 28, 2019 at the Grandview Nursing and Rehab Facility. Born on February 26, 1946 to the late Benny L. and Lois (Gribbins) Garrett, she was 73 years, 9 months, and 2 days of age. She was a cherished mother and grandmother, and the devoted wife of Mr. Walter B. Cox, who preceded her in death in 2011. She had made a profession of faith in Christ and attended the International Gospel Lighthouse.
Mrs. Cox leaves to cherish her memory:
Two daughters: Faye Tungate and companion Sonny Bagby of Campbellsville, and Doris Dobson and companion Mark Henderson of Campbellsville,
A granddaughter raised as a daughter: April Edwards and husband Lanny of Campbellsville,
Seven siblings: Stanley Garrett of Merrimac, Junior Garrett of Indianapolis, and Evelyn Cox , Jeanette Clemmons, Josephine Newton, Betty Seals, and Connie Gribbins, all of Campbellsville,
Six grandchildren: Danny Randall Tungate, Davie Lynn Tungate, Jimmy Dale Tungate and companion Erica O'Rafferty, Amanda Jean Davis and husband T.J., and Joshua Dwayne Dobson, all of Campbellsville,
Eight great-grandchildren: Jakeb, Max, Lacy, Jade, Gracie, Austin, Destiny, and Dakota,
And a host of other family and friends.
She was also preceded in death by two daughters: Nancy Anna Garrett and Sandra Kay Cox; and three siblings: Barbara Jean Tungate, David Garrett, and Hanley Garrett.
There will be a funeral service to honor the life of Mrs. Cox on Sunday, December 1, 2019 at 2:00 PM in the chapel of the L.R. Petty Funeral Home. Sister Anna Overstreet will be officiating. Burial will follow in the Tallow Creek Cemetery.
The family will receive friends at the funeral home on Saturday, November 30, from 5:00-8:00 PM.