Allen Owen Wilson, 49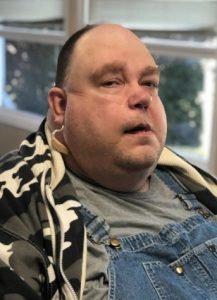 Allen Owen Wilson, the son of the late Lester Owen and Betty Jean (Bolt) Wilson, was born September 6, 1970 in Casey County, KY and departed this life on Tuesday, February 11, 2020 in Louisville at the Norton Hospital. He was 49 years of age.
He enjoyed watching UK Basketball and visits from his family and friends.
Besides his parents, he was preceded in death by a sister: Anita Joan Wilson in 2014.
He is survived by two aunts: Lula Baldwin of Campbellsville, and Gladys Hughes of Liberty; an uncle: Nathan Bolt of Fairdale, and a host of cousins, and other relatives and friends.
A graveside service for Allen Owen Wilson will be conducted Saturday, February 15, 2020 at 1:00 P.M. at the Old Contown Cemetery in Casey County. Bro. Danny Baldwin will be officiating.
There will be no visitation.
L.R. Petty Funeral Home in Campbellsville in charge of arrangements.
In lieu of flowers, memorials are suggested to the Funeral Expense Fund, which can be made in person or mailed to the funeral home or made online by clicking "How Can I Help" tab on the homepage lrpetty.com