Genesis Wade Welch , 20 mos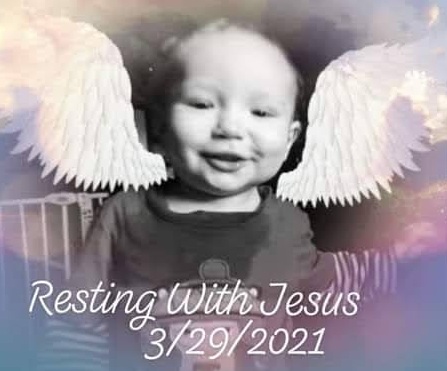 Master Genesis Wade Barlow-Welch of Campbellsville was born on July 22, 2019 to Mitchell Lee Welch and Patricia Noelle Barlow. He entered his heavenly home on Monday, March 29, 2021, being 1 year, 8 months, and 7 days of age. Master Genesis was a bundle of love and energy; he was Mom's "Happy Feet" and Dad's "Turkey". His hugs and snuggles will be cherished and remembered until God's great reunion day.
He leaves to cherish his memory:
His parents: Mitchell Welch and Patricia Barlow of Campbellsville,
Seven siblings: Denise, Colin, Crystah, Tristen, Aaron, Brooke, and Austin,
Maternal grandparents: Kara L. Barlow of Somerset, and James T. Barlow, Jr. of Flint, Michigan,
Paternal grandparents: Leroy Kenneth Welch of Edison, Michigan, and Teresa Ann Welch of Jackson, Michigan,
Great grandparents: James T. Barlow, Sr. of Florida, and Dennis and Halla Wilson of Nancy, KY,
An uncle: Wilson Erny of Somerset,
An aunt: Christal Welch of Michigan,
Great-aunts and uncles: Joy A. Barlow of Florida, and Anna and Paul Seacrest of Somerset,
Close cousins: Josh and Emily Seacrest of Somerset,
A family friend: Gordon Hiser of Michigan,
And a host of other friends and family members.
The family chose cremation. A public memorial service may be held at a later date.
In lieu of flowers, please consider memorials in the form of donations to the Christopher and Dana Reeve Foundation. Those may be made in person at the funeral home, or online at www.christopherreeve.org.