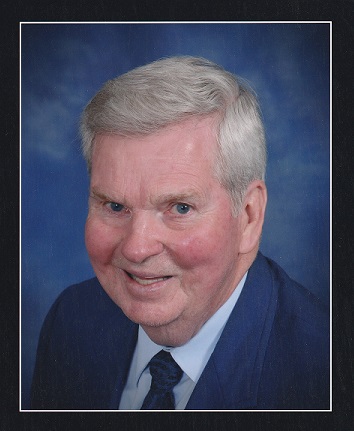 Thomas Othella Matthews, 89, of Campbellsville, KY passed away peacefully on Tuesday, April 13, 2021 after a long battle with leukemia. Born on October 27, 1931 in White Plains, Kentucky (Hopkins County), to the late Rev. RV Matthews and Anna Belle Clark Matthews. Tom's early life was following his Methodist parents in their ministry around western Kentucky until his family's move when he was seven years old to Columbia, Kentucky, after his father's death. Excelling in academics he was Valedictorian of his 1950 class and "Big T" was a starter on the Columbia High School Red Hound basketball team. After graduation, he completed his degree in Business Administration at Lindsey Wilson College.
Tom then took his business talents to New Jersey where he worked on Wall Street as the office manager for Canning & Associates until his retirement in 2006. Returning to Kentucky reunited him with his beloved family and introduced him to his new church family at First United Methodist Church Campbellsville. A devoted Christian, Tom sang in the choir, was president of the Upper Room Sunday School Class, and was always ready to help out with anything that involved the children.
His greatest loves were his family, his church, the UK Wildcats, the Baltimore Ravens, and the Cleveland Indians. Tom could play piano by ear and was excited to celebrate his love for music when he discovered the music program at Campbellsville University. He was a fixture for many years at all concerts and recitals he could attend. Tom's kindness, generosity, and spirit will be deeply missed by all who loved him.
He is survived by his four sisters: Tula Peterson and Mildred White of Campbellsville; Christine Greenman of Winchester, Indiana; and Virginia Ward (Bill) of Madison, Indiana. He is also survived by 14 nieces and nephews whom he loved very much and he relished in spoiling them.
He was preceded in death by his beloved parents; one sister: Clara Conover; and three brothers: Jessie Matthews, Carroll Matthews, and Richard (Dick) Matthews.
Visitation will be at Parrot and Ramsey Funeral Home in Campbellsville on Wednesday, April 14, 2021 from 5:00 to 8:00 pm with a funeral service on Thursday, April 15, 2021 at 11:00 A.M. Burial will be at the Glen Dean Cemetery following the service.
To offer your sympathy during this difficult time and to celebrate Tom's joy of living, you can offer a gift in Tom's name to First United Methodist Church Campbellsville, Lindsey Wilson College "RV and Anna Belle Matthews Scholarship", or Gideon Bibles.