Patsy Barnett, 74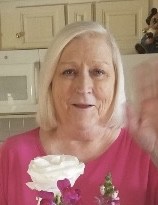 Mrs. Patsy Ann (Cox) Barnett of Campbellsville, daughter of the late Ethil (Bland) and Clemmie Cox, Sr., passed from this life on Sunday, January 9, 2022 at the Jewish Hospital in Louisville. Born on October 27, 1947 she was 74 years, 2 months, and 13 days of age. She had made a profession of faith in Christ and attended God's Grace Church. Mrs. Barnett was a homemaker, and the cherished wife of Mr. Thomas Lewis Barnett, with whom she shared 57 years of marriage.
She leaves to cherish her memory:
Her husband: Thomas Lewis Barnett,
Two children: Stephanie Wingler and husband Anthony of Alabama, and Melissa Followell of Elizabethtown,
Four grandchildren: Brandon Wingler and wife Rachel, Kristen Stanley, Tyler Followell, and Samantha Followell,
Five great-grandchildren,
And a host of other family and friends.
She was also preceded in death by a brother, Clemmie Cox, Jr.
There will be a funeral service to honor the life of Mrs. Barnett on Wednesday, January 12, 2022 at 1:00 PM in the chapel of the L.R. Petty Funeral Home, 1765 New Columbia Rd, Campbellsville, KY. She will be laid to rest in the Campbellsville Memorial Gardens Mausoleum.
The family will receive friends at the funeral home on Wednesday, January 12, after 10:00 AM until time for the service.
In lieu of flowers, please consider memorials in the form of donations to Gideon Bibles. Those can be in person at the funeral home, or over the phone by calling 270-465-5151.