Manuel Gutierrez, Jr.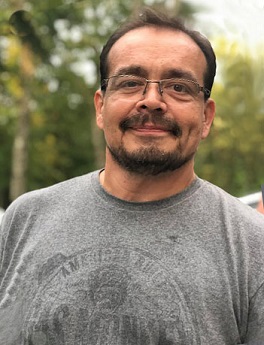 Manuel Gutierrez, Jr "Junior" was born on March 14, 1969, and left us on earth peacefully on Sunday, July 31, 2022, surrounded by his wife and kids.
Junior was special to so many people and we wish for everyone to remember him as you've always known him…happy, sociable, friendly…someone who would talk to anyone and everyone, he would give the shirt off his back or his last $5 to help anyone. He is loved by so many and was the best husband, father, and PaPa we could've ever asked for and we are so grateful for the time we had with him, even if it was too short.  He is survived by his loving wife, Krissy Gutierrez, six kids, Manuel Gutierrez, III, Gabe Gutierrez, Laura May Gutierrez, Logan Brown, Gracie Miller, and Belle Brown, 5 beautiful grandchildren he loves more than anything, Addy Gutierrez, Emmy Gutierrez, Ellie Brown, Liberty Brown, and Asher Skaggs.  He is also survived by his father, Manuel Gutierrez, Sr, brothers John Gutierrez and Alex Gutierrez, sisters Angel Waldren, Tina Porter, Jessie Nunez, Raquel Densmore, and Anita Barrera, along with so many brothers in law, sisters in law, nieces, nephews, cousins, and friends.  Junior also helped care for so many other kids during his life, taking them in and helping with whatever they may need, and all of our "extras" will miss him and remember him as well.  He was stubborn as a mule, but would fight for any one of our kids, and they all know who they are.  He loved Star Wars, Fast & Furious, DIY shows, anything Marvel, and anything to do with cars.  He could fix about anything, a jack of all trades, and was always there when someone needed a listening ear.  His memory stays with us all forever and his presence a constant reminder to live life to the fullest and never take a single day for granted.  He knew he was loved and he loved so many…Junior will be joining some of his precious family that he's missed so much and they will all be watching over us now, his mother, Judith Lawler, his brother, Robert Gutierrez, Sr and his perfect grandson, Hunter Benham, who he can now hold and watch out for eternity.  And finally, in the infamous literal last words of our beloved husband, father, and Papa…"WTF?"
We will have visitation at Parrott & Ramsey Funeral Home on Thursday, August 4th from 5pm to 7pm. All family and friends are welcome to stop by and remember the great man he was and will forever be. Burial will be in the Our Lady of Perpetual Help cemetery at a later date, where his ashes will be laid to rest next to his family. Any donations can be made to Parrott & Ramsey Funeral Home.