Margaret Pickett Bertram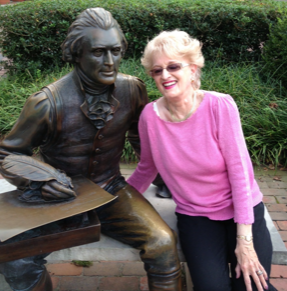 Margaret Rogers Pickett Bertram, of Bambridge Lane, Campbellsville, Kentucky, daughter of the late Grace Pickett Gwinn and Maurice Weldon Pickett, was born June 28, 1936, in Taylor County, Kentucky.  She died at 4:00 p.m., August 2, 2022, after a brief hospitalization in Louisville, Kentucky.  She professed faith in Jesus Christ at an early age and was a member of Campbellsville Baptist Church, where she was an active member and taught Sunday School for many years.  She also served as a member of the Women's Auxiliary of Gideons International for 56 years.  Margaret was a southern lady, who enjoyed traveling, watching sports, tending to her wide array of flowers and plants, studying scripture, and spending time with her beloved family.
Margaret united in marriage to George Barry Bertram on October 11, 1954.  He survives.  She is also survived by four children, Teri Anne Campbell and Dale Campbell, of Nashville, TN; George Barry "Chip" Bertram and Carolyn Bertram, of Mt. Juliet, TN; Margaret Kathryn McCabe and Scott McCabe, of Old Hickory, TN; and John David Bertram and Leah Bertram, of Campbellsville, KY.  Six grandchildren survive, George Ryan Bertram and Molly Bertram, of Mt. Juliet, TN; Molly McCabe Jones and Brad Jones, of Richmond, VA; Sally McCabe of Nashville, TN; Dillon McCabe, of Memphis, TN; Grace Bertram Dickens and Jake Dickens, of Harrogate, TN; Benjamin David Bertram, of Campbellsville, KY; and two great-grandchildren, Kaitlyn Marie Bertram, of Mt. Juliet, TN; and George Nolan Bertram, of Mt. Juliet, TN; one brother, Maurice Pickett and Tessa Pickett of Campbellsville, KY and one niece, Katherine Pickett of Washington and a host of other friends and family.
Visitation:  Friday, August 5, 2022, 10:30 a.m., at the Parrott & Ramsey Funeral Home in Campbellsville, KY.
Funeral Services:   Friday, August 5, 2022, 2:00 p.m. at the Parrott & Ramsey Funeral Home in Campbellsville, KY., by Dr. Dwayne Norman and Dr. James Jones
Burial:   Brookside Cemetery
Pallbearers:
Dale Campbell
Scott McCabe
Dillon McCabe
Ryan Bertram
Ben Bertram
Nolan Bertram
EXPRESSIONS OF SYMPATHY REQUESTED TO BE DONATIONS TO GIDEON BIBLES AND MAY BE MADE AT PARROTT & RAMSEY FUNERAL HOME