Lottie B. Mumphrey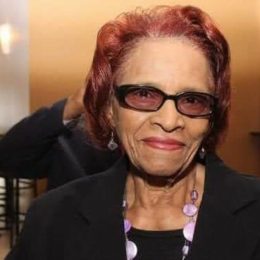 Lottie B. Mumphrey was born August 19, 1931 in Carrollton, KY to the late Charles Martell Taylor and Lola Gayle Taylor.  She peacefully went home to be with the Lord on Wednesday, February 15, 2023 in Campbellsville KY.  Lottie grew up in Carrollton and accepted Christ as her Savior at an early age.  She overcame many adversities in her life, which instilled great determination, strength, and perseverance within.
In 1947, she married Monroe Hoskins, and that union was blessed with 2 children, Lola "Wowo" and James "Bobo" Hoskins. In 1964,  her second marriage was to William Mumphrey. They were blessed with a daughter, Nichole "Coco" Mumphrey (Means).  Lottie moved to Cincinnati in the early 1970s and worked with the city for over 30 years before she retired in 2003. "M.I.S" as she would answer her phone.
Lottie, infectiously known as "Ma" to so many, served as a surrogate mother to hundreds over the years.  Whether sharing her wisdom, covering you with prayer, making pineapple upside down cakes or her famous macaroni and cheese for your birthday, she made an impact on your life. She would always tell it like it was and didn't take "NO" mess.
From her keen sense of fashion to her perfectly placed hair and freshly manicured nails, she was truly "The Queen" in every sense.  She had a smile that would light up any room and dance moves to get any party started.  Her free-style song lyrics sung to your favorite melody would stay stuck in your head for days.
In her later years she spent her time enjoying life with her friends and family, playing the lottery and welcoming new generations into the world to carry on her legacy.  Her love, laughter, and elegance will live on in our hearts forever.
Lottie was preceded in death by her parents, Charles and Lola Taylor; sister, Martha Perry Taylor; brother, Charles Taylor Jr. and grandchildren Tiffany and Marlon Hoskins.
Lottie leaves to cherish her memories: 3 children, Lola (James) Parker, James (June) Hoskins and Nichole J. Means (Michael Sr.); grandchildren, Shenita (Brian), Troy (Alberta), Rhonda (Tim), Nigel (Troy), Evan (Julius), (Jessica), Ian (Sarah), Mariah and Michael Jr. (Weronika);great grandchildren, Chaslyn, Kiana, Erisa (Jeffery), Shatori (Javon), Sierra (Damian), Jazmyne, Rilyn, Essie, Stella, Troy Jr. Marcus, Jonathon, Josh, Candace, Tashaun, Malaya, Zahmar, Margo, Jihaad, Julius, Jabril, Romel and Brooklyn; great-great grandchildren Quinton, Jiovani, Gianni, Major, Phoenix, Onyx, Tatem, Ava, Nova, Isaiah, Samuel, Kasen, DiErra and DiAnna; great life-long friend, Kathy Holzderber and family along with others that loved her and will miss her dearly.
VISITATION
Friday
February 24, 2023
12:00 PM to 1:00 PM
Renfro, Patterson & Jordan Funeral Home
647 Forest Ave.
Cincinnati, OH 45229
FUNERAL SERVICE
Friday
February 24, 2023
1:00 PM
Renfro, Patterson & Jordan Funeral Home
647 Forest Ave.
Cincinnati, OH 45229
INTERMENT FOLLOWING FUNERAL SERVICE
Friday
February 24, 2023
Vine Street Hill Cemetery
3701 Vine St
Cincinnati, OH 45220
Local arrangements handled by L.R. Petty Funeral Home & Cremation Service